(This post is dedicated to my father who was a great fan of Balloon Fiesta. Dad journeyed on his "final flight" during Balloon Fiesta 2012.)
When we first moved to ABQ and I heard people talking about Mass Ascensions, Glows, and Dawn Patrol, I thought I'd stumbled upon some arcane ABQ cult. I soon learned that this was balloon- speak referring to the main attractions of the annual Albuquerque International Balloon Fiesta. "Divine" doesn't even begin to describe this exhilarating 9 day celebration of hot air balloons which arrive from around the world.
The 2014 Balloon Fiesta which just ended featured 559 balloons including 100 astounding "Special Shape" balloons. As the name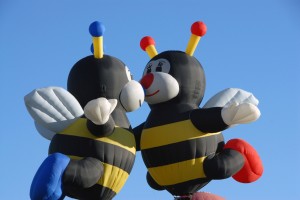 implies, these immense balloons are shaped like Snow White,  a butterfly, Darth Vader, Yoda,  Elvis, a costumed chicken, Spiderpig, a fairy tale coach, and lots more objects and characters. See for yourselves. Google "Albuquerque balloon fiesta special shapes" and tap "images" and "videos."
For 9 glorious days, ISIS, Ebola, midterm elections, and the rest of the gloomy, gritty, nerve – wracking daily news fades away, as we concentrate  on Balloon Fiesta weather reports,  which Balloon Fiesta events to attend, where to take Balloon Fiesta guests, and what time to leave for the Mass Ascensions (mornings on which most of the balloons launch) or Glows ( evenings when the balloons are tethered but inflated and glow as their burners are lit.)
We chose Saturday as our Mass Ascension day, but didn't  quite leave at  4:30am as planned.
Yes, 4:30 am! And that's  even late by Balloon Fiesta standards! By the time we got packed up
(iPad, camera, gloves, hat, water, foil wrap to take home a cinnamon bun, sunglasses, sunscreen) and out the door, it was close to 6am. Yikes! Big Mistake!
As we sat in a long line of cars inching our way toward the exit to Balloon Fiesta Park, we could see the Dawn Patrol Balloons (a dozen balloons that launch  early to test the wind direction ) shining in the still dark sky. Suddenly, cars began to pull out of the main line of traffic and move quickly forward in the second lane-
"Hey! They're trying to break into  the line farther down. Lots of luck! ABQ police control the flow of traffic into the Park and no one butts in!"
But cars kept  leaving our lane.  And then, on nearing the exit, we realized why.  Those cars had the Balloon Fiesta app on their smartphones and had found out that Balloon Fiesta Park had run out of parking spaces and was closed to further traffic. 100,000 people had already arrived by 6:30am!  What! We'd  been waiting in line for 45 minutes and couldn't get in?!
Luckily, in a rare burst of common sense, someone in local law enforcement decided to allow the backed-up, shut-out-of-the-park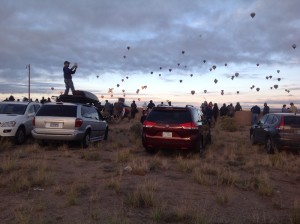 cars to drive up onto a sandy hill adjacent to the freeway and view the balloons as they floated north from the nearby Balloon Fiesta Park launching site.
And that's how we experienced "Spirit of the Winds" (the 2014 Balloon Fiesta title) from a different perspective than in all the  previous years we'd gone. That's how we came to watch hundreds of brilliantly colored, fancifully named balloons drifting among the clouds in a vast blue sky – "Sun Racer," "Enchanted Diamonds," "Dawn's Delight," "Dances With Winds," "Silver Spirit" ( to name a few) slowly floating by…Dad would have loved it!
The vision of hundreds of magnificent balloons sailing silently above the freeway is a dream-like image waiting to be recalled and savored on those wintry days to come when the world seems bent on self-destruction and the desire grows to sail off in a basket dangling below a huge, bright hot air balloon.
So- that was our Balloon Fiesta morning. In the afternoon, we went to Balloon Fiesta Park where the crowds had thinned, the balloons were absent, but the vendors were open. We couldn't miss going to our favorite silly hats shop to buy a gift for a family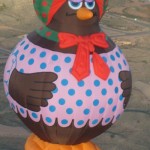 member who collects (and wears) hats that are snaky, fuzzy, creepy, and toothy.  There it was! This year's pick -a plush version of a roasted chicken (turkey?) Just the thing to wear for Halloween and Thanksgiving dinner.
"White meat or dark?"
"I was going to wear my Jets cap, but I chickened out."
"Cluck if you share my passion for poultry."
"How's this for fowl weather gear?"
"My other hat's a scrambled egg."
Add your own What-you've – never- seen- a- guy- in- a- chicken- chapeau- before one liners.
We also bought a jumbo frosted cinnamon bun to go, but prudently passed up the extreme State Fair- style offerings like the deep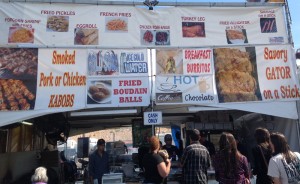 fried bacon green chile cheeseburger, the deep fried Twinkies, the deep fried alligator bits, the fried pickles, and the sausage on a stick.
After a quick stop at the Official Balloon Fiesta Souvenir Tent to buy 2 glittery Balloon Fiesta pins for my collection, we headed home to welcome special Balloon Fiesta guests, prize-winning photographers who had actually flown in a Dawn Patrol Balloon and who were bringing 800+ truly spectacular photos of the week's Balloon Fiesta events. BTW, the Albuquerque International Balloon Fiesta is said to be the most photographed event in the world!
Mark your calendars – October 3-11, 2015 and come to NM real quick for Balloon Fiesta which will be titled "Where Dreams Take Flight."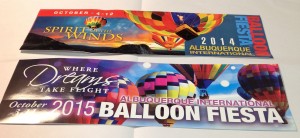 Where? Right here in ABQ!
Dreams take flight?  YES! They really do!