I've been thinking about what to write for 2013, for what was to be his last letter. I think when you read it you will see that we knew

it was going to be his last letter. At the time we wrote it, we were 2 months in to his diagnosis of "big-ass tumor on his liver." We were freaked out, expecting the worse could and would happen at any moment. Little did we know that Lenny had 9 more months to give us, he wasn't done with us yet.
2013 was a blur, and reflecting back, it still is, I couldn't tell you one thing that happened last year. I'll be in meetings at work and people will refer to things from 2013 and I'll be like "that was a year ago?" But anyway, this letter was our attempt at a not too maudlin tribute to Lenny and all the crazy stuff we did with him over the years. I think we succeeded. However, I did receive some comments like: "wow, you guys are sad." So maybe not so much on the "not too maudlin" part.
Lenny was crazy. Completely bonkers off his chain from the moment we brought him home from the West Los Angeles

Animal Shelter. It was rough at first, for all of us. Eric and I had just moved to LA, Lenny was a young dog with an unknown past that hated anything on wheels and distrusted men. But we all figured it out and became a little family of sorts. As long as we didn't expect Lenny to act like a "dog" or do anything that we "asked him to do," we were cool and it worked for us for 13 years.
I can count on my hand the number of people Lenny liked. And this isn't an insult to those he didn't, but the Chow in him just didn't allow him to trust most folks. But if you got on that list, and boy if you were lucky enough for him to sit so you could hug him, it was the best hug you could ever ask for. He would lean against you and look up, snuggle his head in. And sure, maybe he was just trying to encourage me to scratch his chest while he was suffering through this exercise, but regardless, nobody gave a hug like Lenny. Nobody, no thing. And I'll miss that most of all. So here's to Lenny—he was a good fucking dog, thank you.
Here's the 2013 Holiday Letter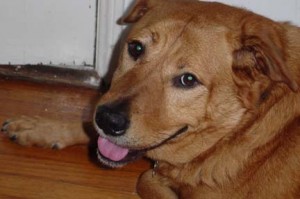 And here are all the other letters:
2005 letter
2006 letter
2007 letter
2008/09 letters
2011 letter
2012 letter