The Third Man is the story of Holly Martins (Joseph Cotten), a pulp western novel writer who travels to Vienna after the war to work for his childhood friend Harry Lime (Orson Welles). When he arrives in Vienna he discovers that Harry was recently killed in a hit and run in front of his apartment. Holly carries his suitcase out to the cemetery just in time to toss a cup of dirt on Harry's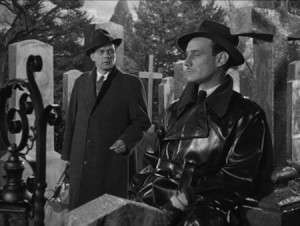 coffin. He catches the attention of Major Calloway, a British Major who is in Vienna helping out after the war.
Calloway drives Holly back to a hotel where he puts him up for the night, but only one night. Calloway wants Holly to leave. But now Holly's interest is peaked, he goes to visit Harry's girlfriend Anna Schmidt (Valli), an actress with a shady past. Holly and Anna go to Harry's apartment where Holly learns from the porter that there was a third man present when Harry was killed. A third man!
Much to Calloway's consternation, Holly stays on and continues to investigate Harry's death. Holly gets a gig to speak about his writing to pay for the hotel. Finally Calloway decides to tell Holly what Harry has been up to in Vienna, and it's not pretty. More suspicious characters are introduced and ultimately we learn that Harry faked his death to escape the charges Calloway is preparing against him. One of my most favorite scenes is when Holly confronts Harry at a Ferris wheel somewhere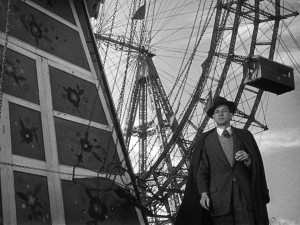 amongst the rubble of bombed out Vienna. I won't spoil the best line, and supposedly Orson Welles added it himself, and it is one of the best lines uttered in classic cinema.
Ultimately Calloway convinces Holly of Harry's misdoings and uses him as bait to capture Harry. Holly agrees to help them if Calloway will help Anna get out of Vienna before the Soviets claim her as a former citizen of Czechoslovakia. However, Anna doesn't want to be helped, not at the expense of Harry and she warns him of the trap. Harry runs off and a wonderfully filmed chase scene ensues through the wreckage of Vienna. They eventually end up in the sewers, European cities have the most awesome looking sewer systems, where things don't end so well for our friend Mr. Lime.
The film ends back at the cemetery where they are burying Harry's actual body this time. The same people are present but the feeling is a little different. The last shot is my favorite, one of my favorite ending shots in all of film-land. It's a long one of Anna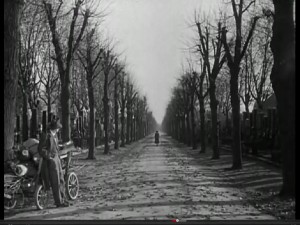 walking down a road away from the cemetery. Holly is waiting for her, leaning against a wagon, hat tilted back. Fall leaves are falling…I won't ruin it for you. But it's awesome. And, apparently the ending was in dispute between screenwriter Graham Greene and director Carol Reed. Ultimately Reed won the argument and Greene has since admitted he was wrong.
Nobody writes the character of the clueless American mucking things up oversees like Graham Greene. Holly blusters his way through a Vienna in ruins, in the process of being divided and split amongst the countries that won the war. The people are haggard, they don't trust American strangers, and they stick together. Anna doesn't care what Harry did, she loves him anyway and she is more loyal to him then to Holly or the British government, or anything else.
One of my favorite "go see an old movie in a real life movie theater" experience was when I had the opportunity to see The Third Man at the Billy Wilder Theater here in Westwood. To top it off, David Birney was there. Granted I only really know David Birney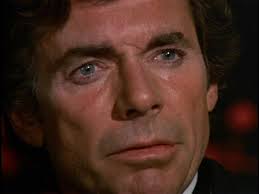 from his appearances on Murder, She Wrote and Love Boat, but still, it's always fun to see a famous person. Yet, The Third Man is a great film to see on the big screen if you can. The black and white, the almost expressionist style of the direction, the "Dutch angles," the contrast between the stone and marble opulence of old Vienna and the dirt and grime and rubble of post-war Vienna is a veritable feast for the eyes.
And now, in closing, I will discuss the soundtrack. It's zither music and oh boy is there a lot of it. The zither music is a character in itself. And what, you may ask, is a zither? I'm not sure, it seems to be some kind of guitar-like stringed instrument. The soundtrack was composed by Anton Karas who was a local musician in Vienna. Reed chose to use this folk music to represent Vienna instead of going in the traditional Vienna waltz direction. It adds to the atmosphere to be sure, but it does take a bit of getting used to, I'm not going to lie. But don't let it scare you off. The Third Man is considered one of the greatest films ever made for a reason, go see for yourself! And if you want to get a taste of all that zithery goodness- here are the opening credits.