Images from the Id – So You Got the Camera, Now What?
Oh, my aching back! After two weeks of growling at a pulled muscle I am finally functioning. I am glad this doesn't happen often.
There is a certain responsibility which arrives with a new camera which is probably the most ignored factor in learning to become a good photographer. As a friend of mine says RTM – Read The Manual.  I don't blame the photographer alone for this problem. I got a Nikon D 300 several years ago and the manual was over 400 pages, my new D 750 has 523 pages and those are just the English manuals! Now, I have trouble with anything over 20 pages. It's a lack of concentration combined with a let's get on with it attitude. I tend to fall asleep if the material is not a good mystery or Sci-fi. Luckily most of the manuals for the better cameras have great indices and tables of contents so a "how do I do this?", approach can work well. You do need to take the time to get familiar with the manual and the look at some specific things you will need. To add to the insult our new Prius has 5 manuals from 20 pages to 450 pages. Is it really realistic to say, "Read the manual"? Let's see, maybe I am trying to set the bar high or impossible. It's time for a different approach.
Start by deciding which thing you must know to start getting the camera working. Second, decide how you want the camera to work for you. To get the thing to work you need to turn it on, charge the battery, format the memory card(s),  and find the button that takes a picture. That is just the beginning. Assuming you want to be a photographer, not just take snapshots and you got a camera that will keep up with your learning curve, there are a lot more you need to know. Most manufactures print a "Quick Start Manual" and they can be a great start. Take the Prius Quick Start manual. It sent me to 5 pages in the Owner's Manual to set a radio station or something. Use the quick start as a guide to, of course, get started but also for your list. Here is my beyond the basics list to give you some ideas. 1) How is image quality selected and what does it mean? 2) How do I change ISO? 3) How do I Select the mode? (I like Aperture for beginners) 4) focusing mode? 5) Focusing area? 6) Exposure mode and area? 7) What's VR or IS? (Hey that's the lens) 8) Other, more than can be counted.
Another way is to think about what you want to do then look up how to do it. Example, How to I control depth of field? Research it and use the index. This work OK except there are many things in the manual you would never think of.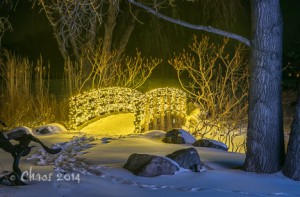 Image #1 – " The Christmas Bridge"  Getting great shots of night lights is harder than you think. First requirement is a tripod to allow more choices of exposure and depth of field. The Nikon D750 has unbelievable low light performance and dynamic range. This was at Hudson Gardens Littleton CO. 8 sec, f/13 for Depth of Field (DoF), -2 EV to keep the lights down, ISO 100, 86 mm ( the D 750 is a full frame camera)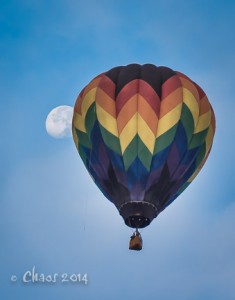 Image #2  – "Moon set at Albuquerque" This is a single shoot with no compositing. The exposure must be perfect for this dynamic range. Taken with the D  7100. 1/1000 sec, f/7.1 for DoF to get both moon and ballon in focus, ISO 400, – 2/3 EV, 112 mm/168 mm crop factor for the smaller sensor,