It's been quite common recently for Republican leaders to declare that there are people in this country who don't belong here. People that are just here to make trouble- spreading violence and chaos, with no respect for the laws of the land. People who have different values then we do- who don't appreciate the freedoms this nation was founded upon and wish instead to impose their own religious law. People who take advantage of the inherently permissive nature of this great nation and use it to perpetrate mayhem and destruction. It is the opinion of Republicans leaders that these people need to be dealt with- monitored, rounded up, tracked and maybe even deported. And I have to admit- they may have a point. There are people in this country who are crazy, violent, fanatical, destructive and up to no good- and they do need to be dealt with harshly.  I think you know who I'm talking about- and frankly, I've had enough. And that's why I'm proposing that we deport all the white people.
I know that may sound harsh- but, come on, white people, we've been tolerant long enough and you've been nothing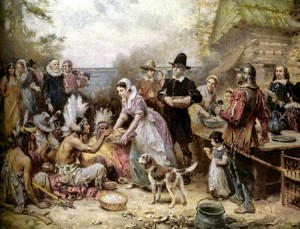 but trouble since the day you got here. You show up in this country as a bunch of dirty refugees from political persecution with weird clothing and customs. You have no jobs and no useful skills. Even though you make no effort to learn about the culture of your adopted land – or even to learn the language, you still gladly accept handouts from hard working native Americans. And then, as soon as you get settled, you so-called "pilgrims" start spreading disease, grabbing up all the land, killing everyone who's already living here and imposing your twisted, puritanical version of religious law- like ISIS with buckles on your hats. And, on top of everything else, you have the audacity to create a holiday celebrating the fact that you suckered real Americans into helping you out so that you could butcher them and take their homes. It's a little known fact that the Native Americans actually named the holiday "Thanksgiving", but of course nobody realized they were being sarcastic.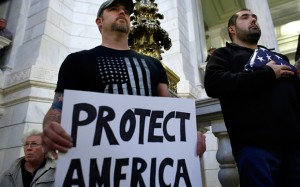 This is why white people freak out when somebody new wants to come to this country. They're terrified that the newcomers will be as bad as they were. They're all like: "On the one hand, the Syrians seem to be in a tough spot and could really use our help. Then again, I bet that's exactly what the Indians said when they saw us- and just look how that turned out….so- sorry Syrians. No Thanksgiving turkey for you! Maybe you should try Germany- I hear they actually feel bad about their genocide." So, yeah, it's not foreigners that white people in America fear at all- it's KARMA.
But all that is in the distant past, and it's not the reason we're calling to deport you guys now. Nor are any of the other terrible things you've done in the last 400 years including, in no particular order: Slavery, Jim Crow, Japanese internment camps, Wal*Mart, the NRA, Salvadoran death squads, Thomas Kinkade, the rise of the Taliban, the Hollywood blacklist, Vietnam, inflatable lawn Santas, supply-side economics, segregation, sub-prime loans, the systematic racism and brutality of the so-called American "justice system", and car-antlers among many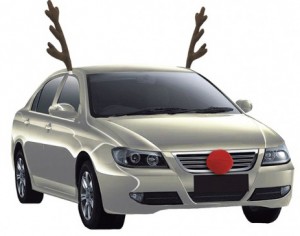 many things. No- the real reason I'm calling for your deportation is that I'm afraid for my life. Practically every day there's another news story about a terrorist attack by a heavily armed white guy on a school, church, Planned Parenthood clinic or other public gathering place and, frankly, I'm sick of it. Sure, sure you say- but those are just isolated incidents by extremists- surely not ALL white people are bad. And, OK, that might be true- but how am I supposed to tell the good ones from the bad ones? I mean, you do kind of all look the same- all pink cheeked and petrified- is it really worth the risk if I'm wrong? You say you don't feel safe with Muslims on airplanes? Well I don't feel safe with white guys in movie theatres. And- if these attacks are just isolated incidents committed by extremists- then why aren't the so-called "moderate" white leaders condemning the perpetrators as terrorists? Instead, all I keep hearing is nonsense  like "oh, they shooter's motivations are unclear." Seriously? Cause dude was shouting "No more body parts" when he shot up a Planned Parenthood- that sounds pretty fucking clear to me. Or- what, you think maybe he was pissed he couldn't get replacements for his Mr. Potato Head and he remembered there used to be a KB Toys on that site and then started shooting when he saw it had been replaced by a Planned Parenthood??  Or, even worse, you refer to the terrorists as "protesters" – because evidently when white terrorists kill innocent people that's just a form of legitimate protest- which is funny, cause when black people engage in legitimate protest they're pretty much treated like terrorists. Huh. Wait- that's not funny at all. Anyhow- if you're not acting all baffled by the motives of killers or downgrading them from "terrorist" to "protester" then you're make excuses for them- saying stuff like "it's not their fault- they're just mentally troubled kids from messed up families" Well, that's too damn bad- you know who else was a mentally troubled kid from a messed up family- Osama Bin Laden- and I don't hear anyone saying we should have cut him a break.
Look, OK, so maybe we don't need to deport you guys. Maybe we can just round you up and put you in camps or something. It won't be so bad! You'll have Fox News and NFL Sunday Ticket and we'll make sure each camp has a Chick-Fil-A and a Hobby Lobby. Yes, I think you'll find that Camp Trump is just like home. Well, almost.  You will have to work a lot harder than you're used to- can't have you freeloading off the government, after all. And while you may find 12 hours a day of forced agricultural labor to be challenging- you can take comfort in the fact that you're finally taking  good, American jobs back from the illegal  immigrants who've been stealing them away. Oh- and I guess, you'll need to learn Spanish. I mean, it's not required or anything- but you're probably going to want to be able to talk to the cop who drags you out of your truck and starts beating the shit out of you because you have a broken taillight.
But aside from the Spanish and the forced agricultural labor, it's just like home. Oh, well, except I guess for the six hours per night of Mandatory Re-Education where you'll learn all about Sharia law, gender neutral pronouns and spotting a racially offensive Halloween costume (HINT: they all are) among many other things. And I know that sounds like we'll keep you awfully busy- but don't worry- you'll still get 6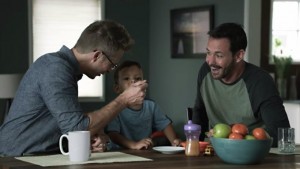 hours per day to sleep. Assuming, of course, that you can sleep with your eyelids pinned open watching the Campbell's Soup commercial with the two dads over and over and over again.
But it's not all forced labor and Re-Education (or Re-Edu-tainment as we like to think of it). There will be festive occasions as well, just you've always had. Well, sort of. Every December 25, we'll bring all of you together to observe "Holiday" by gathering around a 40 foot tall undecorated red Starbucks cup and singing "Imagine" in Arabic to honor the memory of an unwanted Middle Eastern refugee who spoke out against violence, condemned rich people and had two dads. And, of course, on the fourth Thursday of every November we'll all celebrate "Thanks-for-Nothing" by throwing you out into the woods with a Smallpox infected blanket and sorta hoping you die.
And, don't worry, you won't be held there forever- just until you're able to pass a little loyalty test- which will include:
Changing your profile pic to show that you Stand with Planned Parenthood, support Marriage Equality or believe #BlackLivesMatter
Using "white privilege", "microaggression" and "cultural appropriation" correctly in a sentence. Bonus points if you use all the words in one sentence. Double bonus points if the sentence involves white rappers or yoga.
Listening to Colin Powell speak without saying "my, my, my – he's so well spoken"
Listening to Straight Outta Compton in it's entirety without once saying "I don't know what this is – but it certainly isn't music" or "All they say is N-word this and N-word that. But, of course, if I say the N-word- then everyone thinks I'm a racist."
Memorize the rainbow alphabet- LGBTQQIAA (try using the ABC song! "Now I know my LGBT's. Won't RuPaul be proud of me") and know what each letter stands for. When your kids tell you which one of these they are- listen carefully, then hug them and tell them they can always count on your love and support. And if you add "and I'll be praying for your soul because you're going to hell" I'll come down to Camp Trump and beat you myself with the Tolerance Stick.
Saying "Thanks, Obama!" without being a total sarcastic dick about it.
And if you pass this little test, we'll know you're rehabilitated and ready to live among civilized people.
Or….you could avoid all this unpleasantness and STOP FUCKING SHOOTING PEOPLE. The choice is up to you. We can all come together and stand up to hatemongering extremists everywhere who pervert the teachings of their religion to justify their unthinkable brutality – or you can give them tacit approval by supporting politicians and pundits who fan the flames of destruction with the hot air that spews from their fetid mouths. It's up to you, really- just don't take too long, because we've got a warm bunk just waiting for you in the gender non-conforming dormitory at Camp Trump and we're eager to Re-Edu-tain you. Don't test us.
Hope you had a great Thanks-for-Nothing and wishing you all the best this Holiday season. Maybe try celebrating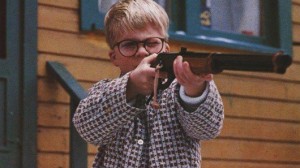 this year without guns. Cause, best case scenario, you just shoot your eye out- and worst case scenario….well, let's make that a Christmas story we don't have to tell this year. Crap! Sorry! I mean "Holiday" story. I guess it's off to Camp Trump for me…