With a ho, ho hokey and a scritch, scritch, scritch, the ABQ holiday season rolls eerily on.
Is this Dr. Seuss? Mother Goose? No, it's the front page of the ABQ Journal (NM's #1 birdcage liner) where there's an article about ABQ's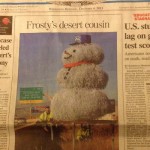 "holiday icon," a tumbleweed snowman. That's right – a giant roadside "snowman" created from a metal frame covered entirely by scratchy, desiccated tumbleweeds.
Ok, I'll pause here to allow more sophisticated readers a moment to roll their eyes at yet another ABQ absurdity. Well, keep those eyeballs rollin'. It seems that this 12 foot prickly bearer of Christmas cheer is put up every year by the (Are you ready?) Albuquerque Metropolitan Arroyo Flood Control Authority, fondly known as AMAFCA.
I see that a bunch of you are looking exceedingly confused by the "arroyo" part.
Show of hands – Who knows what an arroyo is? You, the lady in the third row with the Hello Kitty backpack. (That backpack did go through the metal detector, right?) An arroyo is what you had for lunch from the Taco Bell 99 cent menu. Nooo, not quite.
How about you sir, in the chili decorated "Red-Hot Lover" t-shirt? Been shopping in Old Town, the ABQ tourist tra..uh…trail, I see. An arroyo is a what? An "aggressive species of lizard that threatens to devour hapless ABQers as they string their Christmas lights?!" Wow, quite an imagination you've got there. One too many Sy-Fy original movies for you!
Let's have one more guess. Yes, little girl with the iphone – "An arroyo is a concrete-lined drainage ditch." Right! Ya gotta love 10-year olds who google!
Now, where were we? Oh yeah, the Albuquerque Metropolitan Arroyo Flood Control Authority, their "famed tumbleweed snowman," and its heartfelt holiday message that, "This is a desert. It hardly ever floods and some municipal workers have way, way, way too much time on their hands…Fa La La La La!"
While ABQ's tumbleweed snowman may seem more x-files than Xmas, think of it this way. When the sun turns your Buffalo-Boston-Burlington style snowman into a mass of slush, who, in his AMAFCA cap and jaunty red scarf will still be standing proud and prickly?
TUMBLEWEEDS TRIUMPHANT! Stuff that in your stocking!
One more eye-roller that I can't begin to improve upon – so here it is verbatim from the ABQ Journal. The tumbleweed snowman "achieved international stardom this year having been photographed for a National Geographic feature on tumbleweeds."
Hey! This is big! Good-bye Walter White – Hello Tumble! Set up his FaceBook page! Start tweeting! Put him on YouTube! Spread the word – Tumble's gluten-free, all natural, biodegradable, and full of fiber.
Forget Frosty. Team Tumble is trending! And you heard it here first.
Happy Holidays!