It's Christmas time! Time to revisit our Why Watch This list of all time great holiday movies! Never seen these- this is your chance to catch up on some classics.
Watching Scrooged, 1988, you want to believe that every word, every weird little quirk and voice, is spontaneously coming from Bill Murray's mouth. Back then, before he became Oscar nominated Bill Murray, he was ex-SNL alum Bill Murray and he was like that. Whether it was true or not, and some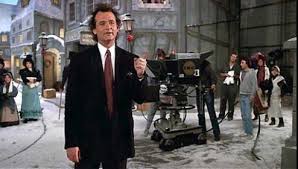 reports seem like it was partially true, it felt like he was making it all up on the spot and he was some sort of comic genius. Which is true at least, he was/is some sort of comic genius and if you don't agree with me because you're judging Zissou, then I challenge you to go back and watch Scrooged. And Ghostbusters, but that's not a Holiday movie.
Scrooged is A Christmas Carol updated to the career driven corporate greed era of 1988. Murray plays Frank Cross, an imperious, over aggressive and overdramatic TV executive. His network is planning a live broadcast of A Christmas Carol, starring Mary Lou Retton as Tiny Tim, Buddy Hackett as Scrooge, there are Solid Gold Dancers in skimpy outfits, it's a grand spectacle by design. Lee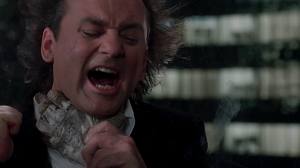 Majors stars in a particularly violent trailer for the event that causes one old lady watching to have a heart attack, to which Frank Cross c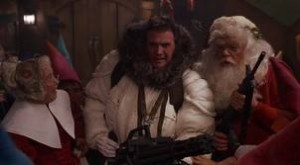 rows, "That's fantastic, you can't buy publicity like that!"
So yes, Frank's got some lessons to learn. They are introduced to him via the ghost of Lew Hayward, the TV executive that had taken Frank under his wing early in his career, who is now a decaying golf playing, drink swilling ghost. In between increasing funny and ridiculous scenes of Frank interacting with the world, and reacting to his supernatural visits, three ghosts come to him and do the whole, past, present, future thing. What unfolds is parallel to the rehearsing of the Christmas Carol broadcast as the action manifests in the real world for Frank Cross.
Buster Poindexter is the Ghost of Christmas past disguised as a cabbie who takes him back to Christmas Eve of his childhood, receiving lamb chops from his butcher father (played by Bill Murray's real life brother, Brian Doyle Murra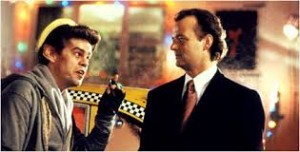 y), seeing his Mom, getting all teary ("Niagara Falls, Johnny Angel, Niagara Falls." Best line in the movie!). My only complaint is Carol Kane as Ghost of Christmas Present is a little too over the top which is saying something in this movie where everyone is operating at an 11.
All the craziness c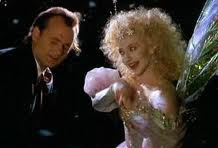 ulminates in the inevitable live broadcast being taken over by Frank Cross. He delivers a speech that makes us wonder again if Murray is off-script, for it's lack of cohesiveness more than anything. Lessons are learned, relationships are rebuilt, life is reaffirmed, as it should be in a good Holiday Movie. And, as a bonus, there is lots of comedy gold in Scrooged. I mean Bobcat Goldthwait is in it. Bobcat fucking Goldthwait! And, I challenge you not to get a little choked up yourself at the end when little Calvin, the son of Frank's assis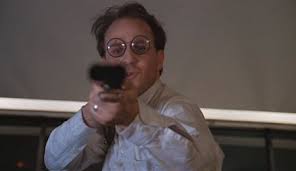 tant Grace, provides the Tiny Tim moment in the real life action. It's farce with a heart and a great sing-a-long at the end. Holiday movie gold!