While channel surfing through the U-verse last night, I came across a show called Outrageous Kid Parties. It was on the Discovery Family Channel where I'm assuming you discover families who spend $29,860 on their 8-year-old's birthday. That's exactly what happens in this ISIS recruitment video episode. The 8-year-old in question is Aniston. I'm not kidding. Her mother, Cindy, describes Aniston as "a little diva". She means this as a compliment. She also says her only daughter has "that It Factor" which I'm assuming here means "Entitlement". "I want a Rock Star Party!" Aniston screams in her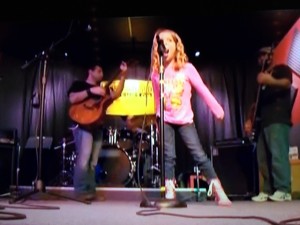 diva tone. She screams everything actually. At one point, there was the necessity for subtitles. I believe it was when she was screaming to her dad over Skype that there was going to be carnival rides and a hummer limo at her party. Dad says, "What?" I said, "I know!" And Connor the middle son bursts in with, "Dad, Mom is spending a lot of money!" Poor Connor. He alludes to the fact that they spent barely $100 on his birthday but his mom is going all out for Aniston. My reaction was "$100!?! For a kid's birthday?" I'm out of touch.
There's an eighteen year old eldest son who is pretty much MIA the entire episode. He's my favorite.
Now on to the party specifics. Cindy hires party planners who quote her $10,000 for the soiree.
("That's ridiculous" to quote her sensible neighbor.) What does $10k buy you for a birthday? Well, Aniston wants first and foremost a Hummer limo to take her to her Rock Star party. This is when I wanted to demand that her family write a formal apology to Jennifer Aniston for sullying her name. Spoiler: the little diva gets her Hummer limo, which stops at a red carpet where Aniston gets to strut the stuff she learned in her catwalk lessons.
Yes, you read that right. Her mom bought her catwalk lessons for $250.
This is when I have the urge to apologize to Jennifer Aniston for witnessing this.
Aniston also got Rock Star Lessons because she is going to sing on stage the night of her party. Spoiler: she screamed into a microphone. Those lessons were $1500.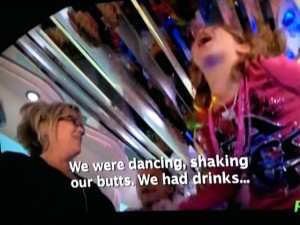 Later on, Cindy takes Aniston and Connor for cake tasting. "My cake is going to be really expensive and really big," says the It Factor Girl. Because that's what you want in a cake you eat. While sampling, Aniston screams something about the chocolate cake being Rock Star or something. The cake designer shows her a sketch of a big guitar cake. She loves it! Then mom asks how much it is. $2500. That's more than she had planned on paying. But Aniston wants it! So she gets it.
Pro tip: ask how much the cake is before you let them show it to your spoiled child. In fact, leave them at home. In fact, bake your own cake. You will save $2492.
Word has gotten around that this family is planning a ridiculous, carnival, rock concert party. The Home Owner's Association Representative comes by to tell Cindy that they are "putting the kibosh on this party." I want my ringtone to be Carol from the HOA saying "KI-bosh".
Cindy freaks. Her best friend, Linda, comes to the rescue and says that she'll host the party. Then she finds out what that entails. Pro Tip: always ask Cindy the specifics before agreeing to do anything for Aniston. Because, Linda, you know Aniston. You know Cindy. She hired a stylist and tattoo artist for her 8-year-old. $1500 by the way.
After freak dancing in her limo, Aniston struts on the red carpet, demands the bottom of the guitar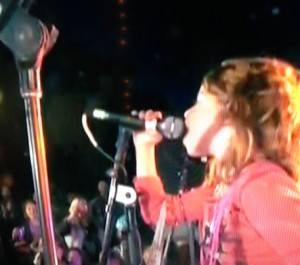 cake, and then finally gets on stage to be a rock star. Before I can lose myself in heaving sobs as I weep for the future of mankind, there are fireworks!
The party is a success. "My party rocked!" screeches Aniston. While Cindy says, "Seeing my daughter on stage just fulfilled my dreams."
THIS EXPLAINS EVERYTHING.
Connor, please keep this video on hand to show your therapist. Actually, make a copy for Aniston, too.
Outrageous Kid Parties airs on the Discovery Family Channel.