One of the main purposes I wanted to start mooning historical markers (other than the concept of it made me giggle) was to draw attention to monuments that we pass by, without giving much thought to the history of the thing. I didn't realize how appropriate my inaugural Been and Going moon would be for that, exact purpose.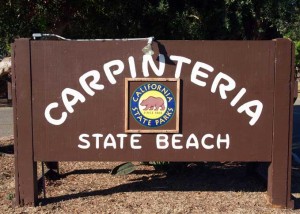 There is a little town, about 80 miles north of Los Angeles, called Carpinteria. It is the epitome of quaint beach village. Weary travelers often stop in 'Carp' (that's the local nick-name for the town), to check out the state beach or grab a bite to eat on their way to Santa Barbara. There are two historical markers in Carpinteria; one for the world's tallest Torrey Pine, which I didn't care about, and one immortalizing the Chumash indian village of Mishopshnow, which piqued my interest.
The location for the Mishopshnow marker was listed at 1000 S. Carpinteria, which the iPhone Google Maps app translated as the starting point of Carpinteria Ave., just south of town. There was no marker there. So Mr. Moon (aka the husband, Seen) and I headed deep into this town of 13,000 souls to see if we could find the illusive marker. We pulled into the Carpinteria State Beach parking lot and asked a lovely couple, who were obviously just out for a morning stroll, where they thought it might be.
Me (leaning out my car window): "Hey there, you guys look like you live here!"
Man in running pants: "Yeah! We do!"
Me: Do you happen to know where the historical plaque, marking the location of the Chumash indian Mishopshnow village is located?"
Man: (stunned look) "No. Never heard of it. I can tell you where the Torrey Pine is!"
Seen: "There's an RV behind us, I gotta drive."
Me: "Ok, thanks!" (waves as we drive away)
If locals didn't really know about it, and Google Maps couldn't find it, this is the perfect marker for a Moons shoot. It's a hidden monument that we can shine some light on and drop a little historical knowledge on y'all.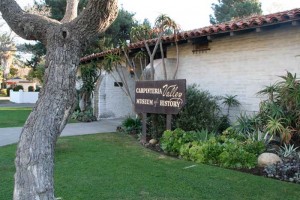 After paging through the Google results, voila, an alternate address for the  marker, 950 Maple Ave. AKA, the Carpinteria Valley History Museum. So not all that hidden, but apparently overlooked. The location made me a little nervous. I don't like having a lot of people around while dropping trou. A historical marker next to a museum means there might be employees and visitors milling about. Luckily, at 7:45 on a Sunday morning, the museum is closed. The only audience I needed to worry about was the guy doing yard work at a business across the very quiet street.
When the landscape guy ducked into the backyard where he was working we moved fast.
Seen ran across the street and I bared my tuckus to the cool, December morning air. Mooning complete.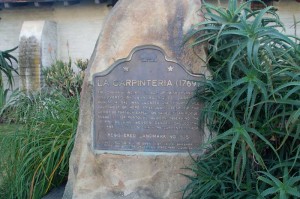 So now for the important stuff. The marker actually says:
The Chumash Indian village of Mishopshnow, discovered by Juan Rodríguez Cabrillo on August 14, 1542, was located one-fourth mile southwest of the monument. Fray Juan Crespí of the Gaspar de Portolá Expedition named it San Roque on August 17, 1769. Portolá's soldiers, observing the Indians building wooden canoes, called the village La Carpinteria-the Carpenter's Shop.
This monument is a very clear example of how the conquerer gets to write history. Because, basically, this Spanish dude wandered into a town, with people living, eating, building canoes and said "Oh hey, I just discovered this spot. Also, your language is invalid, based on the fact that I don't speak it, so I'm gonna call this place…um…'The Carpenter's Shop.' Yeah…"  Not sure if the original locals would describe the interaction that same way.
There are a ton of Chumash Indian monuments in California, and happily, the Chumash tribe has survived. For those of you living in California, please spend some time in one of their casinos.
The town of Carpinteria itself is a beautiful spot, located between a gorgeous beach and the mountains that rise up on the Eastern border. There is an abundance of local farmland and lots of big companies choose to have office space here. After my public airing, Seen and I drove 2 minutes over to the Carpinteria State Beach. Our drive took us down Linden Avenue, which is lined with small businesses that give this village it's charm. It's a wonderful town and I hope they don't hold my mooning against me and let me come back to eat and play in Carpinteria.