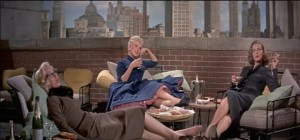 Despite its title and overall premise, How to Marry a Millionaire, is actually a charming movie. But let me get it out of the way first, in honor of my "Gender in Film" college professor. Sure, yes, oh la-di-da, three models living in a swanky New York City apartment with a scheme to land themselves millionaire husbands isn't exactly a feminist manifesto. But, I mean really, if they did make a movie of a feminist manifesto, would you want to see it? Probably not.
But as Drew Barrymore pointed out in this film's intro during her "Essentials" segment on Turner Classic Movies, isn't it nice to have a movie with three strong female characters and they are all getting along? Yes, Drew, yes it is. And even if you disagree with their motives and their goals, this was the 1950s after all, and we have three smart women living in New York City going after what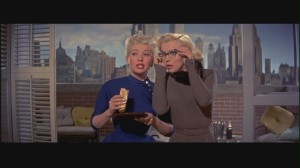 they want. You're gonna make it after all! <hat toss>
Lauren Bacall plays Schatze Page (why does she have such a weird name? who knows?). Schatze is the brains behind the operation. She finds the beautiful New York apartment that was recently vacated By Freddie Denmark (David Wayne) who had to move to Europe to escape the IRS. She moves in two of her fellow models, Pola (Marilyn Monroe) (why does she have such a weird name? who knows?) and Loco (Betty Grable) (why does she have such a weird name? who knows?) (Wait, this one they explain, apparently she did something loco once).
Schatze got stiffed by her last husband, a car hop that had lied to her and said he was rich. No more, now it's caviar only for this girl. The three of them proceed to find themselves rich men to marry, financed by selling the furniture in the apartment they are renting.
Loco meets a rich married man who lures her to his "lodge" in Maine. When she discovers it's his personal cabin they then realize she has the measles and they're stuck there for 2 weeks while she recovers. When she gets better her married man contracts measles as well. In the meantime, Loco meets Eben (Rory Calhoon) the local fire ranger and falls in love. He's not rich! Oh no!
Pola meets a one-eyed man who pretends to be an oil tycoon. Pola is blind as a bat, and refuses to wear her glasses in front of men,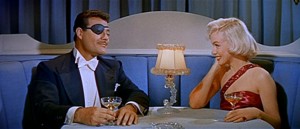 because as Dorothy Parker once said: "Men don't make passes at girls who wear glasses." Luckily, however, she is saved from the fact that he is a fraud because she accidentally boards a plane to Kansas City instead of the plane to Atlantic City she was supposed to board to meet him. Get it? She's blind! Anyway, she ends up sitting next to Freddie Denmark (what a coincidence!) who is also blind as a bat. Freddie likes girls who wear glasses. They fall in love. He's not really rich and may be going to prison soon! Oh no!
Schatze meets an aging millionaire (William Powell! Who doesn't love THAT guy!) who wants to marry her. The problem is that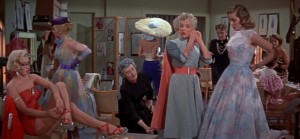 she is in love with Tom Brookman (Cameron Mitchell) who she thinks is another poor car hop. He's not rich! Oh no! But wait, he really is rich, he just pretends not to be and wears a weird twill jacket all the time and carries around a golf club everywhere he goes. Clearly the two signs of a deadbeat car hop. (What is a car hop by the way? Does anyone really know?)
Valuable lessons are learned all around, the girls all end up with the boys they love, and SURPRISE, Tom is loaded to boot. Nothing but fun, I tell you. To top it off we got some great Cinemascope action. This is the first film shot in Cinemascope and the second released. They use it well, the shots of the apartment with its broad windows and excellent views of Manhattan are stunning. And, there's even an overture segment at the beginning where they show a WHOLE orchestra play a WHOLE song. Show offs. Technicolor, Cinemascope, Lauren Bacall, Marilyn Monroe, Betty Grable and William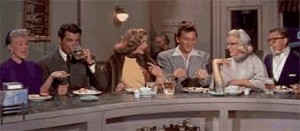 Powell? You simply cannot go wrong, it is impossible, so go watch it.