Images from the Id – In Search of the Elusive Barn or How Did I Miss That?
Steamboat Springs Colorado is a great destination any time of the year except the late spring when the thaw occurs. This is affectionately called the "Mud Season" for good reason. We always make the Ballon Rodeo in early July and usually one more trip when it's not Mud Season. So much for that, the problem here is when there is an iconic image you just have to have – what do you do? There are many of those shots in Steamboat and the one we were after this time was a Barn. We always go to the art shows and galleries when we are there and this barn shows up everywhere. We have been going to the area for years and never seen this barn. We had looked at just about all of the places we could think of to find it. On to other spots. Yampa Valley Botanic Gardens- a great little garden with many mountain species and great for photography,;Fish Creek Falls- maybe the original Coors Beer waterfall (I am not a beer drinker, even though in elementary school my best friend was one of the Coors family.) This is a great place to practice shooting moving water. Then I got an idea. Why not just ask where the barn is?  At one of the galleries I asked! "Oh yes, that barn is right behind the City Market" was the answer.  Oh, Crap! We travel this route four times a day to and from the condo. Next time, we looked and there it was surrounded by 10 artists painting it for a class. Time to shoot. On the downside, in the last four yeasr after we found the barn the city has decided to "renovate" it and condos and housing is rising around it, making the shot much more difficult. The best shot is in the winter with snow on Mount Werner, showing the ski runs, in the background. This last trip we were hoping for snow but Mother Nature had 60 degrees in the plan.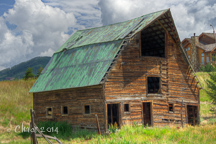 This barn is only about 100 yards from the condo and actually in the corner of a parking lot. No one seems interested in it and the background is difficult. Taken in July 2012 with a Nikon d5100, not my favorite camera!. HDR of 3 exposures, ISO 200, Average shutter 1/250, f/11, 55 mm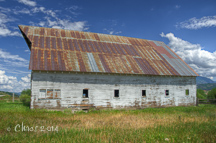 Another barn, farther away and across the Yampa River. Basically the same information on the same day as there last one. Taken in July 2012 with a Nikon d5100, not my favorite camera!. HDR of 3 exposures, ISO 200, Average shutter 1/250, f/11, 55 mm. Did have my D7100 yet, so why didn't I use the D300?? Still nice but these more consumer/automatic cameras are hard for a pro to use.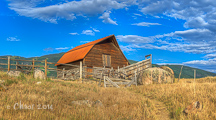 This is "The Barn" also known as the More Barn. Slightly different info. Taken in July 2012 with a Nikon d5100, not my favorite camera! (yep). HDR of 3 exposures, ISO 100, Average shutter 1/90, f/22, 52 mm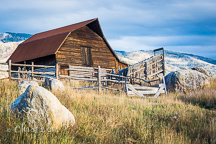 My favorite of the More Barn. Taken this October. I love the natural look here. I was able to hide the new condo etc and show the ski hill. The light color of the hill is cause by trees that have been killed by disease carried by the Pine Beetle. AKA Beetle Kill, 1/13 sec (tripod), f/18 for depth of field, -1/3 EV, ISO 100, 50 mm My favorite camera the Nikon D7100