NOTE: I started this post in Palm Springs on vacation a couple of weeks ago and am just finishing it now. In case you're wondering what took so long, here is a picture of the Kirk Douglas Theatre filled with 3,000 boxes. Draw your own conclusions.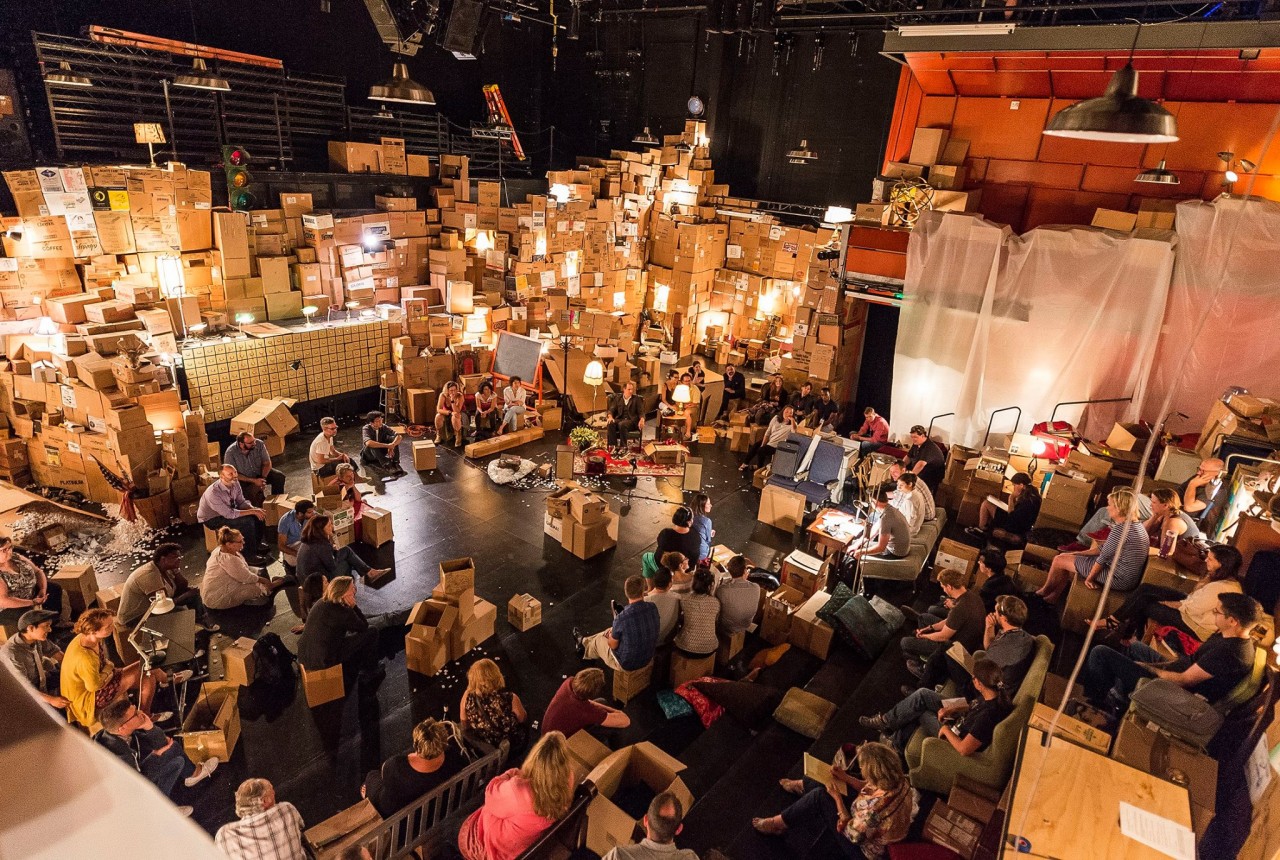 Greetings from beautiful Palm Springs! Sure, I know it may seem counter-intuitive to live in LA and vacation in Palm Springs in August, particularly when LA is in the midst of a ball chafing heatwave and I've been whining like a Republican about the heat every time I go east of La Brea. Note for Republicans- saying "Black Lives Matter"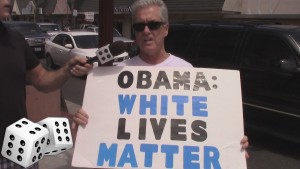 does not constitute whining- petulantly insisting that "All Lives Matter" does. Look- I'm a 42 year old white man- I'm totally aware of how much my life matters. If anything, I'm a little embarrassed by it. I can walk into a police station and take a crap on the floor and the desk sergeant will apologize cause they don't have Charmin. I get followed around stores, but only when they're recruiting for management positions. Cab drivers slow down when I walk by, just in case. My FICO score is "Honky". Cameron Crowe just cast me in his remake of The Joy Luck Club- to play EVERY SINGLE PART. I'm good. I get it. I TOTALLY FUCKING COMPLETELY MATTER. Now can we please move on to the more pressing issue of black people being murdered by asshole racist cops? Cause THAT'S the only thing here that really fucking matters.
So yeah, while I certainly don't whine about how my life matters, I have been known to whine about the heat in LA, which makes it all the more mystifying that I chose to vacation in Palm Springs. It's like living in Albany and wintering in Buffalo. But- hey, wait a second- people who live in cold climates spend their winters in even colder places all the time. Hell, my grandparents lived in upstate New York and spent much of the winters at their place in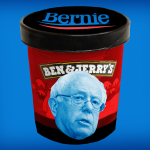 Vermont- and we all know Vermont is only known for three things: Bernie Sanders, heroin and SNOW (also, Ben & Jerry's, which is a hodge-podge of the three). Why would they do that? Wasn't there enough snow for them in Albany? Were they just dumb?
Of course not- they did it because they wanted to ski (my grandfather did anyhow). They went to a place even colder than the one they lived in so they could perform a seasonal activity which they enjoyed. And it's the same with me! I go to Palm Springs in August so I can float in the pool, drink gin & tonics and watch a Murder, She Wrote marathon on Hallmark Movies & Mysteries channel in air conditioned comfort. My favorite summer sports! And so much safer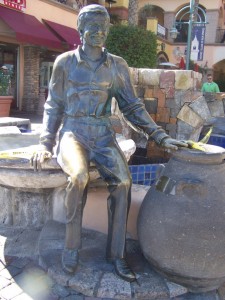 than skiing. Look at Sonny Bono. See- look- he's right over there! Hi Sonny! Anyhow, Bono was mayor of Palm Springs for four years and the worst thing that happened to him is that he ended up with a statue of himself on a park bench so tourists could take selfies. But he goes skiing once and BLAMMO runs into a tree and he's dead as a Kennedy.
Gotta hand it to him for being the mayor of this town, though- that sounds like it takes a lot of effort and the sun here is a sledgehammer. It beats you flat like a piece of veal and roasts the ambition right out of you. I guess he was the only one willing to get out of the pool long enough to show up for City Council meetings. Me, I'd rather float on my back, stare up at the palm trees and contemplate film noir.
Palm Springs actually makes the perfect place to pontificate about film noir. Not only are film noir and Palm Springs both by-products of mid-century America, they both benefited greatly from the old studio system. After all, the same contracts which compelled actors and film-makers to churn out all those noir classics also required them to remain within a two hour drive of Los Angeles, in case they were needed suddenly back in Hollywood (or, let's keep it real here, Culver City). And so a glamorous little resort town was born in the middle of the desert, a quick two hour drive from the studios (good thing traffic was better back then, or we'd be vacationing in Glendale today.) And the town that was created is the perfect embodiment of everything noir was reacting to. Row after row of one story houses- low slung and angular, sleek and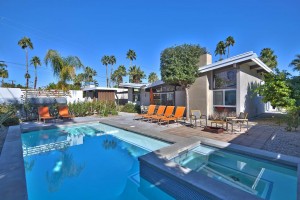 unburdened by history- like shiny new toasters lined up on the shelf of some long gone department store, just waiting for housewives to snatch them up in a desperate bid to outdo each other. And every house is complete with a shimmering blue David Hockney pool in the backyard, hard-bodied young divers and unspoken implications included.
It's not an ostentatious place- just a place quietly confident of the permanence of its own improbable existence. A car in every driveway, a lawn for every house, a house for every family – plenty of oil, plenty of water, plenty of land- the finish line in the pursuit of happiness. Quiet, comfortable, climate controlled and cool- it's the epitome of illusory American greatness during the brief pinnacle of our brief history. Hell, even the names of the neighborhoods simply drip with casual mid-century Hollywood glamour like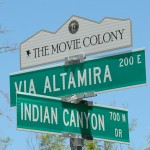 a long string of perfect pearls– the Movie Colony, the Racquet Club. OK, well, just those two- but still!
And so, even though I've done no research on the subject and am much too lazy to do any, I can easily imagine the great noir screenwriters and film-makers sitting by the pool here and giving life to their darkest fantasies. Hell, I know every time I walk the dog through the silent streets and look over the neat little rows of perfect square houses to the towering mountains beyond I think- "man- what an awesome place for a murder!" OK, well sometimes I think "Seriously, Punky? You've got to poop now- right when we're in the middle of crossing the street- you can't hold it til you get to the other side?? Ooooh, you're lucky you're cute" or "Holy crap, Punky- that bicyclist is like three blocks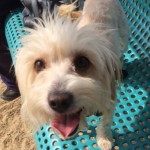 away WHY IN THE NAME OF GOD ARE YOU LOSING YOUR SHIT OVER IT????? Oooooh, you're lucky you're so cute"- but a lot of the time I think "man- what an awesome place for a murder!" Maybe it's cause there's never anyone around- just row after row of angular houses with closed doors. Blinds pulled tight to keep the sun's heat out and the secrets in (eh? eh? pretty mysterious right??) A hot wind listlessly stirs the fronds on tall palm trees like slowly melting ice cubes in a pool-side vodka tonic. The only sounds I hear are the panting of the dog, the soft thump of my sneakers on the sidewalk and the screaming of the cicadas in the trees. Like a restless crowd in a play with no dialogue of its own, they continuously emit a relentless high pitched drone which scratches at my ears like a thousand tiny fingers. A million million hidden insects screeching out the unspoken anxieties of a quiet desert town. Or, you know, that's what it sounds like to me- it's probably some kind of mating call or their way of saying "shit, man- it's hot as fuuuuuuck out here." I don't really know for sure, and I'm way too lazy to research it. That would take effort and ambition, and, as you know, it's hot as fuuuuck out here.
Then again, it doesn't matter what the cicadas are actually trying to say, because, just like film noir, perception is the important thing. Oh and- did I just transform a rationalization for my totally half assed effort into a perfect segue? You bet, I did! I didn't get to be the second laziest B+ student to ever graduate from the University at Albany (right behind Steve Gutenberg) without picking up a few tricks. Gutenberg, sadly is also the most famous alumnus of the University of Albany. I know,right? We couldn't even get Tackleberry!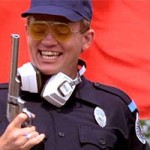 But back to film noir, one of the great things is how the characters are most frequently undone not by the law or the mob but by their own twisted perception of the world they live in. And so, much like Republican women, they make terrible choices contrary to their own self interest, because of their warped perception of reality. Oh, I'm sorry- does the use of "Republican women" in that sentence offend you? In that case- please feel free to substitute: Black Republicans, Latino Republicans, Asian Republicans, Any Republicans not born in the United States, Gay Republicans, Transgender Republicans, Poor Republicans, Working Class Republicans, Middle Class Republicans, Young Republicans, Old Republicans, Middle-Aged Republicans, Republicans Currently Serving in the Military, Republicans Who Used to Serve in the Military, and Republicans whose Republican Family Members Went Off to Serve in the Military and Never Came Home Again. Pretty much the only two Republicans who are actually voting in a way that's consistent with their own self interest are Charles and David Koch. Hell, even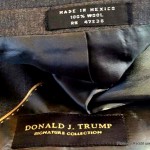 Donald Trump is voting against his self interest- I mean, sure he talks big about building a wall, but all of his suits and most of his employees are made in Mexico.
But hey, that's America for you- always shooting off our nose to spite our face with 1000 rounds of armor piercing ammo delivered for free thanks to Amazon Prime. And, much like the American people, the men & women of noir are their own worse enemies- and in no film is this more evident than Nicholas Ray's quiet masterpiece In A Lonely Place. Humphrey Bogart plays screenwriter Dixon Steele (real name Davidovich Steimtasky). He used to be pretty successful, but that was before the war. Ever since coming back- he hasn't quite been the same. Maybe something was unleashed on the battlefield that he couldn't quite figure out how to shove into the two car garage of a suburban tract home. Now he can't focus like he used to, lacks empathy, is prone to violent outbursts and, worst of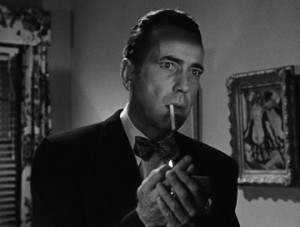 all, his movies lose money –to this day the only truly unforgivable crime in Hollywood.
Anyhow, late one night, Dixon brings a young coat check girl back to his Beverly Hills patio apartment – and no- not to have sleazy Josh Duggar sex with her. (Bill Cosby would also be an acceptable reference there. Jared Fogle would not. That prick got off too easy- if we really wanted to punish him, we'd make him keep eating Subway. Hell, he probably just pled guilty so quickly to finally make it stop. I know how he feels. I once had Subway for lunch for two weeks straight and I was one BMT away from being the Zodiac Killer.) Anyhow- like I said- he doesn't want to do anything dirty- just for her to give him an oral….report (I said nothing dirty!) on a book that he loaned her, since he's too lazy to read the book himself and has a meeting in the morning to discuss adapting it for a screenplay. This may seem strange to some of our younger readers, but you have to remember that before Wikipedia, if you were too lazy to read a book, it was quite common to bring home random restaurant employees to summarize it for you. Hell, I never would have passed Abnormal Psych if that friendly bus boy from Ground Round hadn't broken down the textbook for me. At any rate, the coat check girl turns up dead the next day (same thing happened to my bus boy. Ahh Pablo, when I close my eyes, I can still hear you explaining schizophrenia), Dixon is a natural suspect, and the only person who can vouch for his whereabouts during the time the murder was committed is Laurel Grey (Gloria Grahame) his beautiful and mysterious neighbor who lives across the courtyard, and saw Dixon from her apartment as he sent the coat check girl on her way.
Anyhow- Laurel and Dixon fall in love, but the detectives investigating the murder still suspect Dixon and they plant seeds of suspicion in Laurel's mind. Dixon pours a giant can of water on these seeds with his violent temper and crazy pants behavior and causes them to flower into great big blossoms of doubt (is it me or did this get weirdly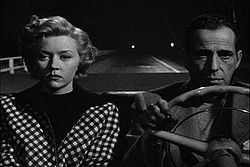 horticultural all of a sudden?)
Anyhow- I don't want to give away what happens in the end- but, come on, it's a film noir called In A Lonely Place- so…you know…it's not good. Her distrust leads to fear, fear leads to deception, her deception fuels his rage, his rage unleashes violence. By the time she actually finds out if Steele is guilty or innocent of murder, it's too late- their future together is as dead as the coat check girl (or a doe eyed bus boy with a preternatural understanding of the DSM). It's been poisoned by their toxic mistrust of each other, strangled by their choices and dumped off the road in a lonely place.
And that brings up one of the other great pleasures of film noir- the Film Title Drinking Game (invented by my wife. Copyright 2015)- wherein you do a shot every time a character says the title of the movie. In fact, there's one movie called Tension which is worth watching for two reasons- there are a couple of scenes shot in and around the Culver Theater – 50 years before it was converted to the Kirk Douglas Theatre and 60 years before it was filled with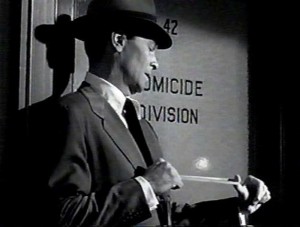 boxes, and the fact that if you are playing the Film Title Drinking Game- you will get FUCKED UP. The hard-nosed cop played by Barry Sullivan even stretches a rubber band between his fingers throughout the movie just to make the point about how much TENSION (gulp) the characters are under and if enough TENSION (gulp) is applied, a criminal will sooner or later crack because of all the tensidi-tense TENSION (gulp. Vomit)
But of course, we came to Palm Springs to get away from all the TENSION (gulp) of Los Angeles and to soak up chlorine, sunshine and ambiance. And as the sun goes down, the ambiance intensifies. Palm Springs is even more deliciously ominous by night. The cicadas quiet down and the wind takes over as sound designer. And while the cicadas perfectly capture the simmering TENSION (gulp) that lurks behind closed doors under the burning sunlight, the wind brings out all the mystery and intrigue of the city in darkness. It whoshes through trees, tinkles chimes on porches and scrapes a dry leaf across the pavement, scraping the nerves as it travels along. Of course, the lighting helps too. There are no street lights- the only illumination is provided by sconce lights on houses. Some are cold new fluorescents shining through clear glass like hard blue eyes. Others are incandescents in aging plastic, cracked and yellow as nicotine stained teeth. Hell, we're way past noir town here and heading for David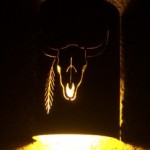 Lynch country. (The sconce lights on our rental house had the outline of a cow skull cut into them. That's not really so much evocative of murder, unless it's the murder of good taste and Georgia O' Keefe is the primary suspect.) Even the names of the gated communities are evocative and mysterious- the Enclave, Sunrise Palms. OK- just those two- but still! Can't you just picture a retired Dale Cooper living in a place called Sunrise Palms, spending his days talking into a tape recorder (actually a banana) and drinking sludgy coffee with dwarves (actually Filipino nurses)? "Annie's just fine, Agent Cooper. You don't have to keep asking about her. Why don't you take your pills and have a nice nap? Maybe you'll see your friend the giant!"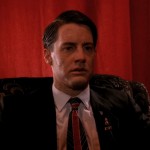 Of course, in reality, nothing much evil is happening at all. The worst crime most people are guilty of in Palm Springs is pulling their white tube socks all the way up to their knees and walking through Trader Joe's so…fucking…slowly. But that wouldn't make much of a noir movie- I mean what would you even call it? They Shopped By Day? Push the Cart Slowly? The High Tubesocks? Fearful Flyer? Raw Deal….on Raw Cashews? The Big Schlep? "Look at you- shopping by day (gulp)- pushing the cart slowly (gulp) acting all high and mighty with your high tubesocks (gulp). You're looking for a bargain- but all you're gonna get is a raw deal on raw cashews (gulp). So go ahead- look through that Fearless Flyer for savings- deep down you're just a fearful flyer (gulp) cause you know there's no saving you. Someday soon you're gonna take that big schelp (gulp) to the sky and I'll be able to get the hell out of here with my Riesling and tortellini in less than 45 minutes and get on with my damn life." So- yeah- not nearly as interesting in reality as in the imagination, but then- that's reality for you. Fucking lame.
Still, all vacations must come to an end, so now I find myself in September walking the dog through the dusty backstreets of West LA past broken cacti and patches of dirt with receding hairlines of brown grass. There are no cicadas, just the oceanic roar of the freeway and the only mysteries to solve are "why does everyone dump their mattresses here?", "is the guy in the Montero Sport, like, living in his car?" and "no, seriously – why DOES everybody dump their mattresses here?" and honestly, none of these are mysteries I'm really eager to solve since the answer is likely to be more depressing than the question. Even the street names are uninspiring- National, Robertson- well, OK, just those two- but still!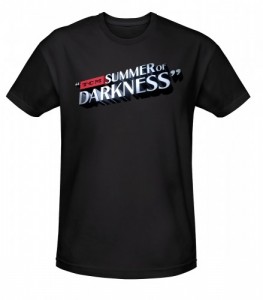 But, we've still got a few noir movies on the DVR we haven't seen which we recorded during TCM's Summer of Darkness, like grey leftovers in the fridge that still smell sort of fresh, and I got an awesome Summer of Darkness t-shirt and TCM hat from my wife, who retains her title as Best Gift Giver Ever for the 17th year running as well as being my partner in crime (or crime movie watching anyhow) and most important person in my life. Happy Anniversary! Someday, when we're old, we'll get to spend all our time in Palm Springs, but for the time being, it's just a two hour drive away (or was in the 40's anyhow), in case the tension (gulp) of Los Angeles gets to be too much. And, meanwhile, if you want to find me, I'll be at the former Culver Theatre, now the Kirk Douglas, hiding under a pile of boxes and dreaming of my next vacation. Oooh- maybe I'll see my friend, the giant!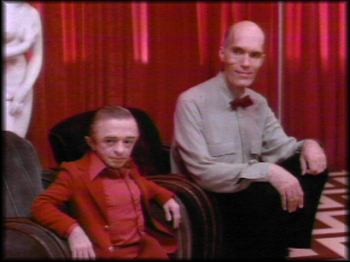 Oh- and if you're wondering what the deal is with all the boxes- check out The Object Lesson at the Kirk Douglas Theatre now playing through Oct 4. It's pretty amazing- almost worth coming back from Palm Springs for. Almost.