Images from the Id – On the Road Again or too Much and too Little?
After almost two straight weeks of traveling and shooting, I think I have recovered and getting  back from a little exhaustion and even some photo burnout. The exhaustion is  more emotional than physical and the burnout is a combination of physically being on the move and mentally the result of over 3600 images! Don't get me wrong I love the balloons and entertaining my sister-in-law, and avid and excellent photographer, but 3600 images and I thought I was being conservative. Me conservative, HA! Just remember, what goes in, snap, must come out, processing. I love the hunt but sometimes I am overwhelmed with just the prospect of sorting and  choosing the images to work on.  Adobe Lightroom 5 is a great help. Without it, I would be totally unable to function. Photographers talk ceaselessly  about their workflow or the procedure they use to catalog, sort and process their images. With the coming of Lightroom it has became and endless discussion of what the best workflow is. I have seen professional photographers who use 4 pieces of software and 45 minutes to do what I can do in 10 minutes with Lightroom. I have known them to waste time making endless, unneeded, Tiff file backup copies are unneeded with an understanding of Lightroom. Point is everyone needs a system. Every photographer from a beginner to pro needs to organize and establish a consistent workflow. For the casual photographer nothing is better than iPhoto or better yet Aperture. These can link all of your personal images together in one place. You iPhone, computer, iPad are all interlinked, but it is only for Apple hardware. The next step up would be Adobe's Photoshop Elements which is for Windows and Mac. It includes organization software and is easy for the beginner. More advanced is the Adobe Photographers Creative Cloud Subscription. This includes Lightroom 5.6 and Photoshop CC 2014. It costs $9.99/month and is a good deal for those working at growing and producing the best they can. They both take effort to learn but are unlimited in possibilities
Back to my problem. I use  two basic rules for sorting. First, keep only images that you would like anyone else to see. Second, keep any personal images to document a trip or family.
Albuquerque? I'll keep most of the balloon shots, what too cool. Steamboat Springs, the barn shots and the waterfalls, lots of instructional images there and some others. Eyes Park? Some good elk shots but the Landscapes were not too hot or actually too hot, no snow or color.
Image #1 – One solution to a problem, when the scene is dull with no contrast converting to black and white may help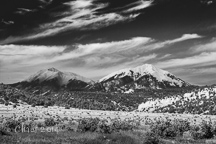 Spanish Peaks 1/20 sec, f/20, ISO 100,105 mm, 0 EV Initial processing in Lightroom left these images flat and uninteresting. Converted this one to Black and White in Silver Effects Pro
Ludlow CO – The site of the Ludlow Miner Massacre April 20, 1914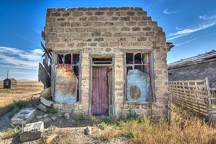 HDR processed in Photomatix Pro from 5 images 1 f-stop apart. information for average exposure –  1/50 sec, f/13, ISO 100,12 mm. I love the effect of the wide angle lens.
The Road to Santa Fe.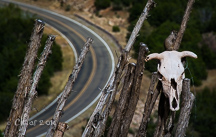 Look for something unusual. 1/250 sec, f/11, ISO 100, 200 mm Processed in Lightroom. A good demonstration of selective focus. A smaller aperture such as f/22 and too much would be in focus. A bigger aperture such as f/5 and the background would be too blurry. Practice this often.