I have a bone to pick with Johnny Weir (Phrasing!) Thanks to his fabulous fashions, surprisingly thoughtful commentary and GBF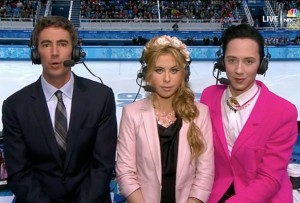 (Gay Best Friend) chemistry with Tara Lipinsky (as described brilliantly by Madame HR) I can no longer tolerate regular figure skating commentators. It's like coffee- there was a time when I could swig back anything – diner coffee, deli coffee, office coffee that's made from pre-measured packets ordered in bulk from Staples which sits in the carafe getting hot and crusty all day like cholent on Shabbos – and has roughly the same impact on my colon, I didn't care, I didn't even taste it. Then Starbucks came along and all of a sudden, coffee was like this beverage with flavor that I was actually supposed to enjoy and not just some toxic sugary spew I choked down my throat ten times a day to keep myself from falling into a permanent vegetative state during my data entry job (you laugh- but I had to sign a DNR before I took that job. When the guy before me dropped, they went through his pockets for change and sold his shoes. Yeay Non Profit sector!) I was ruined! I haven't been able to drink office coffee since. Hell, now I don't even drink Starbucks. It's a single-origin, shade-grown, fair-trade, home-roasted, fresh-ground, filtered-water, manual-drip mug of perfection at just the right temperature or nothing. And if you think typing all those hyphens was hard- try making the coffee- it takes me like nine fucking hours to make one cup- it's literally the only thing in my life I'm remotely a perfectionist about. I can sit in a pile of used tissues, with my shirt buttoned wrong, my beard out of control like a superstitious hockey player on a deep playoff run, and so much cream cheese on my pants it's like I dry-humped my bagel instead of eating it- but if the roast on my goddamn Ethiopia Sidamo is wrong I just freak the fuck out like Johnny Weir with a broken Bedazzler.  And it's the same thing with figure skating – I used to just ignore the commentary, but after a couple mornings of sparkling wit and sparkling tiaras with Weir and Lipiniski, the prime time commentators seem like Al Michaels and Cris Collinsworth in comparison and I DO NOT mean that as a compliment. I'm like a shark who's developed a taste for human blood and now there's no way I can go back to seals, especially when one of the seals is Sandra Bezic and she's sitting next to Scott Hamilton spewing syrupy banalities like "she's like a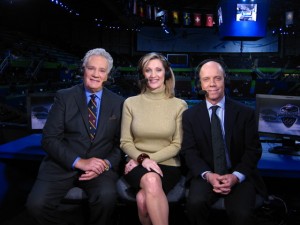 figurine of a figure skater in a jewelry box but she's so strong." So….is that a good thing? Or a bad thing? Or….are you just super duper extra proud of the fact that you still have the exact same jewelry box that you did when you were a little girl with a Dorothy Hamil fixation and you've picked this particular moment to fucking humblebrag about it. And, sure, Scott Hamilton's OK- like a 2nd favorite uncle that everyone knows is gay but no one's allowed to say anything during those awkward moments at Thanksgiving when Nana says "So, Scotty, when are you give me some grandchildren?" which happen more and more frequently every year thanks to her creeping dementia and chronic alcoholism. And while Tom Hammond is doing remarkably well for a man who's been completely drained of blood, all he ever does is tell us how long it's been since random stuff happened in a really serious voice as though that's supposed to add some fucking gravitas to the proceedings. "No Italian has won a medal in figure skating since 2002", "This is the first time that US women have gone without a figure skating medal in consecutive Olympics since 1948", "No American woman has touched the clammy, dead skin of my face without recoiling in horror and fleeing the room since 1986. Sigh. Hey, you guys want to hang out after the Ladies' Final tonight? No? Oh. You got plans. That's cool. No one has wanted to associate with me because of my unbearable personality and disturbing pallor since 2002. It gets so lonely. Sniff."  Seriously dude, it's like 80 degrees there- go to the ski slope and get a tan. You're like one of those fish that lives its whole life in a cave and never sees the sun except those fish might have something interesting to say about ice skating.
Of course, Weir and Lipinski weren't the only fabulous American pair on the ice – there were a couple of halfway decent Americans who were actually competing in the games. I'm speaking, of course, of ice dancers Meryl Davis and Charlie White. Now, usually, we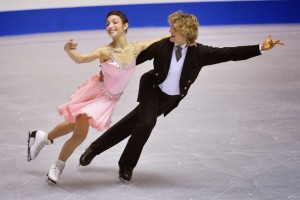 don't get to see much ice dancing at the Olympics – but this year, by some totally crazy coincidence, NBC decided to show a lot more of it right when we had a couple of Americans competing for the gold. Weird, right? It's like they were all "Fuck it. Ice Dancing. Why not? Wait- what we've got Americans that are good at this??? Reeeeaaaally? ! had no idea! What a coinkerdinker." Not that I mind. I'd always rather watch something Americans are good at then watch Bjorn Olafson and Bjorn Erickson bjorning it out with each other over a 50,000 mile cross country race for the honor of blond people and a lifetime supply of reindeer meat. I'm actually proud of America for sucking at Cross Country. All that grim determination and grueling exertion- fuck that shit. That's not the American way to win medals. No- the American way is to keep making up new crazy-ass flippy-flip snowboarding events that nobody else in the world knows how to do yet- and then, when other countries figure out how to do these events better than us, because they actually work hard and practice, we just come up with something newer and cooler and it's like "Oh, you guys is Switzerland are still into halfpipe? That's, like, soooo 1998. We're all totally doing Slopestyle now." And, you know what- that's awesome! I mean, sure, we may not have the best conditioned athletes in the world,  and we steal all our winter sports ideas from Gleaming the Cube– but, hey- if you give a big pile of snow to a bunch of Americans,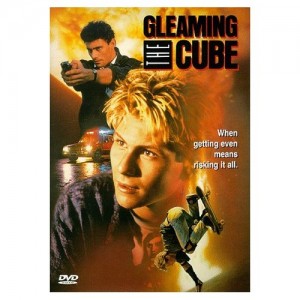 we'll get stoned as shit and figure out how many times we can flip around in the air and we'll call it a YOLO McTwist 420. Give snow to a bunch of Norwegians- and they'll go very slowly in a straight line until they die. Which country would you rather be from? Now wait- don't base your answer on quality of life, education, culture, economic stability or healthcare- just stick to winter sports coolness.
So, yeah- it's fine to suck at Cross Country- but- I do have to admit I was a little disappointed by our Biathalon results. I mean- we're the gun craziest country on earth- how can we be so bad at shooting? Is it just that Americans aren't used to this type of target shooting? Would we do better if they put little hoodies on the targets? Or – maybe instead of a rifle range, we could do our shooting in a school cafeteria?
The Russians, on the other hand, are great at Biathalon, but that's cause skiing and shooting is how they hunt gays.
The worst part about the Biathalon is that, if you screw up at shooting, you have to ski a penalty lap. That's how much Cross Country sucks- the worst way they could think of to punish bad shooters was to make them do more Cross Country skiing. That would never work with Half Pipe- snowboarders would be missing shots on purpose. "Ooops, 0 for 5. Oh, shuckey-darn. I guess it's 5 more runs for meeeeeeeeeeeee!!!!!" But Cross Country- that's how Norwegian parents make their kids eat their vegetables "Finish all your Brussels sprouts, Bjorn, or it's an extra 10,000 meters before bedtime."
Anyhow, like I was saying about Meryl Davis and Charlie White….at some point earlier today I'm sure, they dominated the Ice Dancing competition and, in the process, they reminded all of us Americans that we are so are so pathetically desperate to soak up Olympic glory that we're even willing to learn what a "twizzle" is and why we should give a fuck what a good one looks like. We're the ones making the real sacrifices here. Also, and I'm not ashamed to admit this, I have a total hair crush on Charlie White. The downy Wonder Bread cloud of golden curls softly flouncing about, a little bit shaggy and totally loveable like an adorable, wel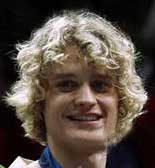 l           groomed sheepdog- that's exactly what I had in mind when I grew my hair out for the first time at 15 into a pumpernickel black, unwieldy, steel wool Jew-Fro like a crackhead's poodle.  And that would be the best my hair would get. By the time I was in my mid-20's my hairline had already entered the Great Recession and the time had come to give up and cut it short for good. So, for me, the American Ice Dancing triumph was about more than patriotism or athletic achievement- it was about basking vicariously in the Gold Medal glow of Charlie White's golden locks and remembering the shadows of my own Olympic caliber fantasies of fabulous hair. Because, you see, for those of us that are follicularly challenged- there are no Paralympics- so we must watch as Charlie White lives the dream for us all in Sochi, and think of what might have been….
While White and Davis fulfilled their Olympic dreams, many of the highly vaunted American athletes did not. There was Shaun White who failed to medal much to the smirking delight of every single snowboarder because they naturally hate him for all the attention, funding and opportunities he brought to their sport and also because he's this enormous douche. Lindsey Jacobellis did a masterful impression of Llewyn Davis when she totally sabotaged her chances for success by falling in the semi-finals with a clear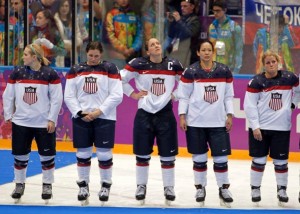 lead for the third Olympics in a row. The U.S. Men's Hockey team beat Russia in an early round game and gave Al Michaels a throbbing 1980 Cold War Nostalgia erection that lasted right up until they lost to Canada in the semi's and were Finnish-ed off in the Bronze medal game. And the U.S. Women's Hockey Team lost to Canada in heart-breaking fashion and wept so copiously as they received the Silver Medal that their coach seriously regretted joking "hey, you lose this one, you're staying in Sochi".
But of course, the biggest US failure was the Speed Skating Team which medaled in only one of the bazillion events they competed in. The real surprise, to me, though isn't that we suck at Speed Skating- it's that we were supposed to be good in the first place. I mean, I always figured that Speed Skating was one of those crazy-freaky things that's super-important in the rest of the world but is just kind of a weird novelty here like soccer or hazelnut spread or learning science and math. It turns out we were actually coming into the Olympics favored to win a bunch of medals and ended up totally humiliating ourselves. U-S-A! Most people blamed the new Under Armour suits that the skaters wore during the Games- though they kept on losing when they switched back to their old suits….which were also made by Under Armour….so….maybe they sucked, too. In response to these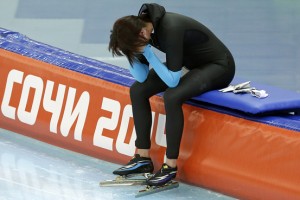 concerns, the US Speedskating Association took immediate and decisive action and renewed their sponsorship contract with Under Armour for another eight years. That'll learn 'em! 2026 is gonna be our year! Never underestimate the power of greed to triumph over the Olympic spirit. For those that don't get why this big contract seems foolish- just substitute "Jerry Jones" for "U.S. Speedskating Association" and "Tony Romo" for "Under Armour". And if you still aren't sure what I'm talking about, just think about how you felt in 2004 when we re-elected George Bush and you'll know exactly what our Speedskaters are going through. And, yes- I am getting all worked up about Speed Skating – you got a problem with that? Winter sports to me are like Judaism and politics- I fast on Yom Kippur, vote in Presidential Elections and give a fuck about Speed Skating during the Winter Olympics. So long, Speedsuckers! Have fun with your Loser Suits. See you in 2018 in South Korea. I hope President Clinton can come to the Games!
So, yeah, the Olympics were kind of a bust for the American team- but not all hope is lost. On March 7, the Paralympics begin and, thanks to Iraq and Afghanistan, the U.S. has loads of great new Paralympians just itching to work off their PTSD on the slopes and rinks of Sochi and not on their long suffering loved ones.  Thanks, George Bush! U-S-A! U-S-A!
And that brings us to the Closing Ceremonies. The theme of the Closing Ceremonies was "a buncha people making stupid shapes on the ground and shit"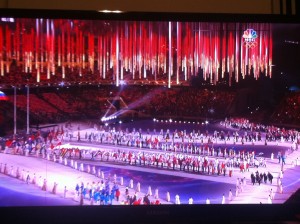 which was also the same as the Opening Ceremony and the last Opening Ceremony and every Ceremony at every Olympics since they figured out how to film stuff from above (fuck you, too Busby Berkeley.) Seriously- I get it- volunteer slave labor making circles. Whoopidie-doo. But according to the organizers, the Closing Ceremonies were a tribute to Russian art, culture & literature. I meant to come up with all sorts of witty things to say about the Ceremonies, but I fell asleep, which, as far as I'm concerned, is the best way to pay tribute to Russian art, culture and literature. I did notice that many of the writers who were honored during the Ceremonies had been persecuted during their lifetimes and this got me super-psyched for the Pussy Riot Tribute Concert at the 2042 St. Petersburg Games.
As if Russian art, culture and literature weren't bad enough- Al Michaels and Cris Collinsworth were brought in to comment on the proceedings. It's like NBC was saying "Hey loyal viewers- we want to thank for sticking with us all the way to the end of the crazy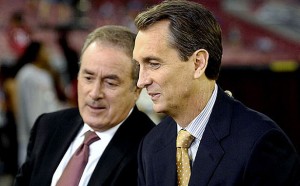 Olympic ride. So as a very special treat, why don't you all go fuck yourselves?" I mean, seriously, NBC- why you gotta play me like that? Didn't I stick with you through all of those goddamn Cadillac commercials with the asshole who talks about how Americans are sooooo great because we don't take enough vacation time (like that's really our fucking choice) and how we're the ONLY ones going back up to the moon- even though we can't afford the gas money to go there on a  Russian rocket? And didn't I stick with you when you showed that fucking documentary about that Russian orphan swimmer girl with no legs who was adopted by a loving American family in the Baltimore suburbs and came back to Russia to meet her biological family only to realize just how UNBELIEVABLY FUCKING AMAZING LIVING IN THE SUBURBS OF BALTIMORE ACTUALLY IS? And didn't I stick with you when you kept trying over and over and over and over again to convince me that Living with Fisher would be funny because it's about a blind guy- when we all know that a rose by any other name would smell as sweet and an enormous hunk of shit about a blind guy is still just AN ENORMOUS HUNK OF SHIT . Well, didn't I???? And after 18 grueling emotional days together through ups and downs, triumph and defeat, good times and bad, Costas and Lauer- you give me the Michaels and Collinsworth on the final night??? Laurel and Hardly?? Tweedledee and Tweedeldipshit? I mean, I get it – I know all the good commentators got the hell out of Sochi just as fast as their little legs could carry them, and so you were totally relieved when you found Al Michaels still in Sochi, lying face down on the ice of the hockey rink in a pool of Stoli vomit and half-digested Qualuudes wearing nothing but a dickey yelling "I DON'T BELIEVE IN MIRACLES" with Cris Collinsworth sitting on the ice smiling brainlessly next to him saying "Yes, It sure has been one heck of an Olympics, Al." so you dragged them over to the Fisht Stadium (Wait, are we not even saying "Phrasing" any more?) sat them down with Vladimir Posner who dropped such bon mots as "every country is special in its own way" which is also what he tells his autistic son when he takes all the other kids to Disneyland and subjected your loyal viewers to three hours of misery, boredom, suffering and torture. And it that doesn't say " a tribute Russian art, culture and literature"- I don't know what does? Well done, NBC!
Oh yeah, there was also that enormous bear that blew out the cauldron before shedding a single tear just like Russian orphans do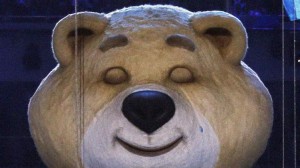 on their birthday when they make a wish to go to America- only much much more disturbing that that. More disturbing even than the no legged swimmer girl.
So, here I am. The Olympics are over. After two glorious weeks of avoiding reality with high flying Olympic competition, it's time to come back down to earth and avoid reality using regular television – which is not nearly as fun. I'm watching Speed for God's sake- which is like Gravity on the bus. And, sure, it's the best movie ever made about the perils of public transport in Los Angeles that wasn't produced by concerned parents in Beverly Hills (if you haven't seen this-watch it now) but it can't compare to the glorious bubble of unreality that can only be experienced by obsessively watching a long running athletic tournament at all hours of the day and night. Between Kiev, Venezuela and Arizona (Jan Brewer only vetoed that bill because there's no religious objection to serving Mexicans) all I can say is- MARCH MADNESS IS ONLY THREE WEEKS AWAY! Thank fucking God. I was this close to knowing what's going on in the world. Phew!