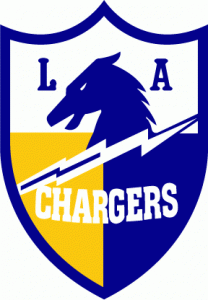 Recently the San Diego Chargers (San Di-e-go…SUPER CHARGERS! Sorry. It's very catchy) officially announced their intention to move to Los Angeles – just like the Rams and the Raiders. Oh goody- just what we needed! Three more middle aged losers running off to LA to get away from a loveless marriage with a city that won't put out money for a new stadium anymore. Seriously- who do they think we are? The big breasted dental hygienist of major American cities? And, of course, they're just setting themselves up for disappointment – expecting to move to a super-hip Downtown loft and winding up next to a Home Depot in Carson.
I mean, sure, it's great to know that even in this era of skyrocketing rents and plummeting reservoirs, Los Angeles is still a place that the mediocre and talentless flock to so they can  pursue their asinine dreams- but that doesn't mean I want to watch them play football- hell- it's bad enough I have to watch them do theatre!! When I watch football- I want to see Broadway, Ahmanson or at the very least Geffen level competition. I don't want to watch the Raiders and Chargers (San Di-e-go SUPER CHARGERS! Crap! Sorry) flounder around like an Uber driver and a barista doing True West at the Complex in front of the eight friends who couldn't think of a plausible lie when they were invited to the Facebook event. 99 seat theatre may have a place in my heart- but it has no place on my TV on Sundays, and if all these teams move to LA- that's all I'm going to get to see.
Of course, we already do have to watch these teams way more then we should, since they've all been based in LA before. So really, they're not running away to follow their dreams, they're coming home like college graduates who can't make it in the real world and so they have to move back in with their parents. And the worst part is, they're going to have to move into the basement in Carson because their old stadium was turned into a guest room for USC.
I mean, I guess it might not be so bad- maybe one of these new LA teams will turn out to be really good and they'll serve as a rallying point for the whole LA region- bringing our sprawling and fractured metropolitan area together as a community and giving us inspiration to face the challenging years ahead. Or-  even better- these teams will suck, their games will be blacked out locally and we'll never have to watch any of those fucking losers again…until they leave town again and we're stuck with them again on TV. But hopefully they'll move to London, and their games will be on at 6:30 AM, so we can just sleep through them.
But of course, that assumes that Roger Goodell wants to bring the NFL to London- and, I'm not really sure that he does- cause he's sending mixed signals. I just wish that if he didn't want to bring the NFL to London, he would come out and say so instead of being all passive aggressive about it. I mean, on the one hand, every year he schedules more games over there- but, then just look at the teams he sends over. Chiefs and the Lions???? Don't the people of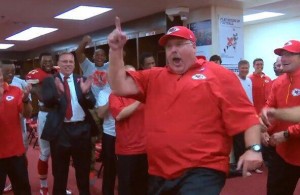 England deserve better than seeing Detroit's worst export since the LeBaron taking on The Mustached Tomato Andy Reid and his Kansas City Crappers?? That's not a commercial for American football- it's a cautionary tale. It's like sending Trump to debate Carson in Iraq in order to promote democracy. Which, of course, would never happen cause it's way hotter than 67 degrees over there- and those ISIS guys are almost as tough as Megyn Kelly. Speaking of mixed signals- gotta love NBC- first they make a big deal about cutting ties with Donald Trump and then they have him on the Tonight Show with America's Favorite Klutzy Bootlicker, Jimmy Fallon – who's literally falling all over himself to wedge his nose into whatever repugnant butt Lorne Micheaels sticks in front of him (no wonder he drinks) and guest hosting Saturday Night Live- oh but, hey look, protestors – he's onstage with a black guy, so it must be OK! Disgusting! I'm officially boycotting Saturday Night Live, starting retroactively in 1991.
The only thing I can figure is that Goodell is taking the same approach to scheduling games in London that most dudes take to folding the laundry – you know- the old "if I do a really crappy job, maybe she'll stop asking". Which is brilliant- because that way if he's ever called out on it, he can just be like  "What? You asked to give you games in London- I gave you games in London. I guess if you don't want them any more, I can just stop…but only if that's what you really want, England. I just want you to be happy." And so, sure, that means Roger Goodell is just as shitty a husband as he is a commissioner- but, hey, I don't see him doing dishes!
Sadly, my beloved Jets were one of the teams sent to England this year to reinvigorate interest in cricket. And while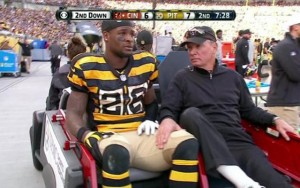 it does make me want to tweet a LeVon Bell sad-bumblebee-emjoi when I think of the Jets in the same category as the Lions and Cheifs, it's still been a pretty good season for Jets fans. It's not just cause Geno "Facepunch" Smith got hurt and we learned just how much better life can be without him- like when the office manager goes out on maternity leave and suddenly there's Starbucks in the break room and the copier's fixed. No – the real reason why this has been such a great season for Jets fans doesn't really have anything to do with the Jets at all- it's all thanks to the Colts.
You see, Last season in the AFC Championship, the Patriots beat the Colts by deflating the ball. This season, the Patriots beat the Colts by deflating Chuck Pagano's brain- and I, for one, couldn't be happier!
Don't get me wrong- I'm not thrilled the Patriots are now Seven-and-Ugh and I don't bear any ill will towards Chuck Pagano- though, like most Americans, I cared about him more when he was sick (he's the Lamar to our Khloe). But I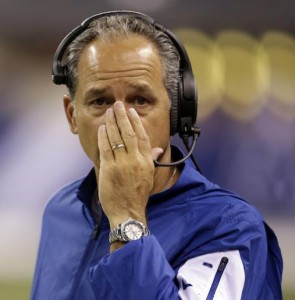 was absolutely tickled pink (in honor of breast cancer awareness month) when Pagano ran his terrible fake punt because from now on, whenever commentators talk about the worst play ever in NFL history- they won't be talking about the Butt Fumble! Woo-Hoo! We're not the worst anymore!! Not The Worst! Not The Worst! This is the greatest feeling ever!!! If I was a German sausage- I would be notwurst!!!! This must be what Lincoln Chafee felt like when Jim Webb dropped out; what the Ewoks felt like after Jar Jar Binks; Robert McNamara after the Iraq War; W after hearing JEB! Speak; Warrant after Nickleback; John Madden when he watches John Gruden; and what Chicago Cubs fans certainly must have felt like on Oct 21, 2015, just as Marty McFly was coming back from the future.
I shouldn't pick on the Colts, though- they've had a rough season. They had to start the re-animated corpse of Matt Hasselbeck when Andrew Luck suddenly contracted Cancer of the Neck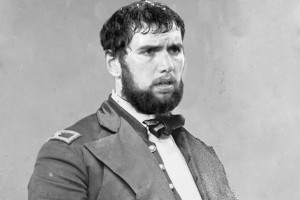 Beard- which marks the first time in NFL history that a quarterback who looks like a Civil War soldier was replaced by a player who actually lived through it. And they aren't the only team that's had to start a backup QB- the poor Steelers lost their starter and their back up and had to resort to starting a QB who isn't a felon. Denver has had to start the Over the Hill Erratic Peyton Manning Who Has Cable over the Real Peyton Manning who has DirecTV. And, of course, in Dallas, Tony Romo is looking like the MVP in absentia thanks to the comedy stylings of Weeden and Cassel. How bad is Brandon Weeden you ask? He actually got benched IN FAVOR of Matt Cassel. For those of you that don't follow football, that's like picking Ben Carson because Trump is too crazy…..or picking Donald Trump because Carson's too crazy. Works either way! Of course, now Dr. Ben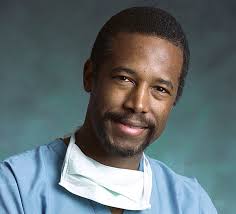 is practically conscious with rage over the fact that "secular progressives" keep using "facts" and "evidence" to disprove all of the crazy shit he says. The problem here is that, being a brain surgeon, Carson just isn't used to having any one contradicting him. I don't know about you but if I'm in the hospital talking to some dude who's about to cut open my head and mess with my brain, I'm pretty much gonna agree with EVERYTHING he says. Ancient Israelites built pyramids for grain storage? Sure! You turned down a scholarship at West Point? Wise choice!! You stabbed a whole bunch of other kids when you were younger? Alrighty then! I mean, it's a little bit weird that you feel the urge to share that little anecdote with me right before cutting my head open but, okey dokey! Whatever you say Mr. Brain Surgery Man.
I mean, when did we reach the point in this country where a candidate lies about attempted murder in order to be MORE electable? It must have been right around the same time that we started interpreting a red cup at Starbucks as a secular attack on religion. I know I'm offended by them! Why every time I go to Starbucks I insist on giving my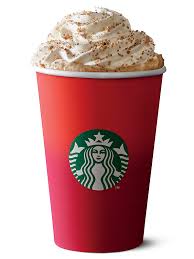 name as Happy Hanukkah. Ha! Take THAT Mr. Progressive Secular Barista Man! Why don't you let Judah Maccabee motivate you when you're doing True West tonight??
No wonder Ben Carson is so religious, BTW, he understands what a miracle it is that a doctor can learn so much about the human brain while not actually having one himself.
Now, I don't know how religious Brandon Weeden is- but I do know that if I were an NFL QB and my coach sat me down after a game and said "Son, I really appreciate all the effort you put in our there- but I'm gonna go with Matt Cassel"- I would take that shit as a SIGN. Move to a condo, sell the Bentley, update my LinkedIn profile and finish that degree at ITT Tech- because the End is motherfucking near- and I'd damn well be ready. Unless, of course, I was Matt Hasselbeck- in which case I would just graciously retreat to my coffin in the basement of the ESPN building (Bristolvania) and wait for the next sucker to pick my dead ass up.
Alright, well, those are some of the big stories in the NFL this season as we pass the midway point. Though, wait, there's one I'm forgetting- oh what is it? Is it how all of us who watch football are giving tacit endorsement to a sport which nurtures rage and brutality in young men, is rife with domestic violence and leaves former players physically broken, unable to function and suicidally depressed? No, no that can't be it. I mean, why on earth would we want to talk about THAT? Oh- wait- I've got it- Women. The NFL loves em!! Sure there used to be all those domestic violence issues I just mentioned, but the NFL ran a PSA with Eli Manning and now there's no violence against women at all. Problem solved (Greg who?)! Is there nothing that Eli Manning can't do- except get a tan in his brother's shadow? Anyhow, it's clear that the NFL values women- just look at all the pink uniforms they made the players wear during Brand Awareness Breast Cancer Awareness month. Why for every pink uniform they sell, the NFL donates 10 seconds of lip service to giving a crap about breast cancer. Wow! Who needs Planned Parenthood's boring old cancer screenings- I feel closer to a cure already! And, the NFL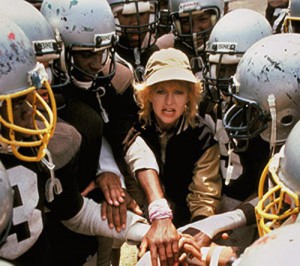 may not have any female coaches or executives but Roger Goodell did just give Wildcats a 5 star rating on Netflix- so that's progress, right! I mean, every time Goldie runs around the track, that glass ceiling cracks a little.
Alright- that's it for the first half of the season- but we've still got eight more weeks of watching Fan Duel and Draft Kings commercials briefly interrupted by penalties to go! Not to mention the Playoffs- and that's when the commercials get really interesting. And, of course, it all culminates with Superbowl 50- or Uberbowl 5.0 as it's known this year since it's taking place in epicenter of tech douchebaggery. And of course – we've got great Monday night match-ups like the Bears vs the Chargers (San Di-e-go SUPER Chargers! Crap! Sorry. This is worse than having an Alanis Morisette song stuck in your head- and that, BTW, is NOT ironic #90'shackcomic.) Huh. That's a terrible matchup. Jeez, Goodell- if you don't want to have Monday night games any more- just say so!