His face dots millions of cans of pasta and pizza sauce.  At one time or another, we've all opened up a can of enjoyed his cuisine.  Chef Boyardee, with his tall white cap has fed American's for almost a century, but he's not just a face on a can – he's America's first real celebrity chef!
Ettore "Hector" Boyardee was born in 1897 and arrived in the United States from Piacenza, Italy in the early 1900's.  It didn't take him long to find a job and in 1915 at age 17, he was running the kitchen of the Plaza Hotel in New York City.   Having such a prestigious job also scored him the gig of catering President Woodrow Wilson's wedding reception!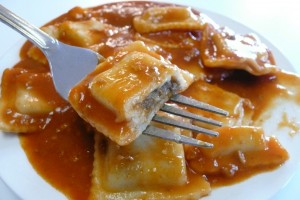 He then headed west to work at the Hotel Winton in Cleveland, Ohio.  While working there, he met and married his wife.  But, he was tired of working for others and wanted a restaurant of his own.  In 1924, he opened Il Giardino d'Italia and his cooking became the talk of the town.  Hungry Clevelanders would line up for hours around the block to get in the door.  His food became so popular; he would package his spaghetti and meatballs in milk jars for customers to take home.
After making a good bit of dough with his take home meals, he decided he could sell his pasta to the masses.  Only four years later in 1928, he and his brothers would create the Chef Boyardee Company and move to Milton, Pennsylvania, (now just a few minutes off of Interstate 80.)  The central Pennsylvania climate allowed for more fresh tomatoes and mushrooms to be used.  They also dropped the Italian spelling to make it easier for Americans to pronounce.  At his plant, he invents a meatball making machine that's still in use today!
His products are such a hit that they caught the attention of the U.S. Military.  During World War II, his company was contracted to produce canned meals for the troops overseas.  The plant goes into full production 24/7 to keep up.  His war efforts earn him a Gold Star, the highest honor a civilian can earn.
After the war, instead of cutting back on production, he sold the plant to American Home Products so that everyone could keep their jobs.  He continued on as a consultant and also starred in commercials for his products.  It was these commercials that can officially give him the title of America's first celebrity chef.
Long before Gordon Ramsay, Bobby Flay, Emeril, and Giada de Laurenties became fixtures on our TV's, Chef Boyardee was starring in commercials for his products since the days of black and white television.  He generally went off the air when he retired in 1978, but anyone who grew up before that time, knew who Chef Boyardee was, and not just from his line in the grocery store.
In 2000, ConAgra Foods of Omaha, Nebraska purchases the product line and they continue to manufacture his canned goods to this day.  To celebrate the chef, the company erected a statue in his honor at the Omaha plant.
THE 411
Name: Chef Boyardee
What: America's first celebrity chef
Active: 1924-1978
Known for: canned product line in grocery stores
Website: www.chefboyardee.com
JERSEY JOE RECOMMENDS:
I was always a fan on his ABC's and 123's with meatballs and regularly keep a can in the cupboard.  Not only are they good, but also a must have in case of an emergency or long term power failure.  As a kid, this was my go to food when we would lose power after a big snowstorm in the country.  They are good either heated or right out the can!  The Chef Boyardee spaghetti sauce was always so much better than the rival, Spaghetti-O's.  To me, Spaghetti-O's always tasted like the can.
I had no idea he was a real guy until I just happened to come across a random fact on the web.  I always figured he was just a mascot kind of like Mr. Clean or the Jolly Green Giant.  It's neat to see that he was indeed real and is a true American success story.  I just hope at some point they bring back his old Tic Tac Toe's or Pac Man Pasta!  (Yes, I used to eat those as a child.)
Like the old commercials say "Thank Goodness for Chef Boyardee!"
Image credits – Michael Carian, cfinke, Friscocali, Jimmy Emerson DVM, Roadsidepictures & Scutter