Let's see…according to the Bosses of Been and Going Thanksgiving posts are encouraged to be "angry and political." Well, so much for my cheery nostalgic look at Thanksgivings past, when huge golden-brown turkeys were cooked by someone other than me; when cranberry sauce with high fructose corn syrup was a staple; and gluten- free stuffing wasn't even a glimmer in Whole Foods' eye (and Whole Foods wasn't even a glimmer in a super market world ruled by A&P markets.)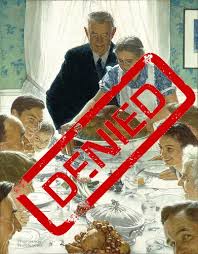 I guess it's good-bye to Norman Rockwell and say hello to the new normal November where Bill Cosby is an alleged sleaze; Darren walked; Ferguson burned; and according to Yahoo News,  the polluted Great Lakes are turning to jelly; HIV is out of control in the US; a nor'easter is headed to, where else, the Northeast; and Angelina Jolie is considering a political career  (Lara Croft for Congress?).  Kind of a thankless scene, but definitely a nod to " angry and political."
C'mon. Whatever happened to over the river and through the mall and all that? Let's look on the bright side. "Desert Droppings" is, after all, a product of Albuquerque, where snow's not likely; my cage-free, antibiotic – free, turkey hind quarter is roasting; and my fridge is bursting with a soon- to- be – prepared cornucopia of organic produce thanks to family generosity and Skarsgard Farms.  http://skarsgardfarms.com
Looking back, when I first encountered ABQ, I found several things puzzling. Why did all these houses appear to be made of beige Play-Do awaiting a final layer of bricks or siding?
What natural disaster had turned front lawns into expanses of gravel, rocks, and prickly weeds? And why did gift shops have all sorts of skeleton trinkets that were cute rather than creepy?
I was quickly enlightened about Adobe architecture ( no bricks or siding ever!), xeriscaping (those rocks and spiky plants were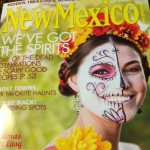 meticulously placed and paid for ), and Dia de los Muertos (Day of the Dead), a joyful, early November celebration of Mexican origin which honors the Dear Departed. Parades, colorful altars adorned with items reflecting the personality of the deceased, and a rich array of traditional foods happily commemorate Day of the Dead. Imagine feasting on round loaves of sweet pan de muerto, sugar skull candies, and skull shaped cookies!
Make Thankful #1 – ABQ's unique, fun, multi- cultural milieu which includes this light-hearted, gone but not forgotten, tribute to the Grim Reaper.
And no, Day of the Dead is not a sneaky lead- in to a burst of The Walking Dead fan talk…
Yes! It is! As TWD Season #5 has taught us DON'T TRUST ANYBODY! "Cooks," clergy, cops, care providers, scientists, they all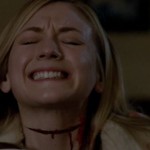 LIE! TWD mid- season finale coming up. Get Carol and Beth outta there! Fight Walkers! Fear Humans! Runnnnnnnn!
We now return you to Thanksgiving DD- style already in progress.
From sweet to spicy – ( Yes, I'm writing this on an empty stomach!)  On the East Coast, I was never a particular fan of hot peppers, but they're such a NM staple, I decided to try timid tastes at first, just a tongue tip of mild Desert Gardens brand Roasted Garlic and Olive salsa (www.comfortfoods.com)  then a cracker full. Now, I eat it for breakfast along with O'Hara's Holy Habanero  jelly and avocado sandwiches  (oharasjamsandjellies.com)  and picante sauce on rice cakes. This summer, we raised a bumper crop of green chile peppers ( which redden when left on the vine). I dried a few just for fun and saved a bagful in the vegetable cooler to be added to winter salads,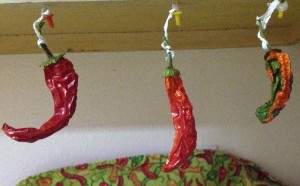 soups, and spreads.
Not a big thing really, chile peppers, but sometimes it's the cheerful small stuff that really counts. Trust me!
NM chile peppers – Thankful #2
Coming after down home (or down casa) skull cake and chiles, the next "Thankful" thing defies a segue. It's CNN and its 24 hour news cycle. What?! No, really. For several weeks, Dish cable company and Ted Turner were feuding over the billions in fees that Dish owed Ted that Dish felt were detrimental to its bottom line and to its customers whom Dish prefers to gouge all on its own. Our CNN channel said, "Removed by Ted Turner," like he had personally blocked CNN's satellite beams or whatever from each individual Dish customer's rooftop. Dish substituted MSNBC for CNN- bad idea! Every time I checked for a glimpse of breaking news, there was a program on prison life with a smirking tattooed hulk in neon orange, describing in nauseating detail why he or she was totally justified in eviscerating his/her ex.
The worst part was that without CNN, I didn't know what looming threats to national and international well being I had to worry about. Were Ebola carriers lurking in ABQ malls?
Was ISIS plotting a south west caliphate?  Had Congress imploded?  The pre-digested news dollops from Yahoo hardly sufficed. I need Fareed Zakaria, Wolfe Blitzer, Candy Crowley, Don Lemon, et al to tell me what's wrong or right with the world, because if an impending disaster isn't being covered by CNN, it isn't worth the worry. Luckily, given the short attention span of the 24 hour news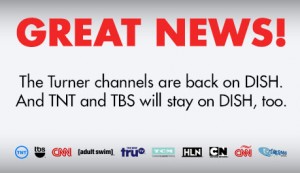 audience, bad stuff just fades away after we've heard it a few times and CNN finds new crises to again briefly capture our interest. Turner and Dish made up and CNN returned just in time for the Cosby revelations and fiery drama in Ferguson, both of which are now old news and will soon give way to fresh headlines designed to keep viewers engaged and advertisers satisfied.
So – Thankful #3 – The return of CNN and informed anxiety.
Finally- a traditional Thankful #4 for family and friends who have grinned and grimaced at a whole year's worth of DD posts. It's been a challenge and a grand adventure to seek out and share the strange, the silly, and, at times, the serious sides of life in the desert and beyond.
With luck and a huge effort at time management, there's lots more to come.
Happy Thanksgiving!