Love that feeling being crammed in coach on a long flight?  Now, you can have that same feeling on Broadway!
Broadway – dozens of shows and thousands of butts pack the seats every night.  But, it seems like the theater owners are taking a page from the airlines and jam packing more and more people in.
A few weeks ago, I went to see No Man's Land with two friends, starring Patrick Stewart and Ian McKellen.  We had $150 tickets, which put us in the front row of the upper balcony of the Cort Theater on West 48th Street.  Thankfully, being in the front row allowed us for a few precious inches of leg room.  I looked back and the people sitting behind me, who basically had their knees in their chests.   While the entire play was good, the first act of the show was a little long and dry.  It was becoming harder and harder to sit as the act drug on, with my legs falling asleep and fighting for possession of the narrow arm rest. Not to mention, the air conditioning was off and it really started to heat up in there.  I actually heard someone snoring behind me and saw several people nodding off all around.
Quite frankly, it was just flat out uncomfortable.
Sitting there that long reminded me of being on a long flight.  The seats are expensive, there's little room, and you're crammed in there for hours at a time.
Space in New York is at a premium, but have the Broadway theaters have gone too far?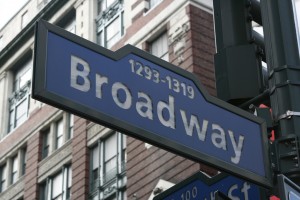 Take a trip to the restroom, you'll always find a line.  At the Foxwoods Theatre where I saw Spider Man: Turn Off the Dark (read my original review, here), men actually had to turn to the side to use the urinal.  They may be the smallest bathrooms – I've ever seen!
Being local, I usually see at least one show a year.  To me, I love the magic of the live stage performance, but the way they pack you in, I feel like a piece of cattle… just like on an airplane.
I get it.  The shows are expensive to produce, with actors, stage hands, advertising, story rights, and theater rent all adding up to big bucks.  So, the shows and venues are looking to maximize every dollar they can – and one way of doing so is by packing more people into the house.
Same deal with the airlines, the more fuel costs go up, the more seats they are adding to planes.
Sadly, the result for both is an uncomfortable experience for customers.
Another way both Broadway and the airlines are looking to cash in is the sale of alcohol.  Up until a few years ago, only a few Broadway shows sold liquor, now almost all of them have multiple bars and allow patrons to carry a cocktail to their seats.
At No Man's Land, they had a guy walking up and down through the lower seats selling candy!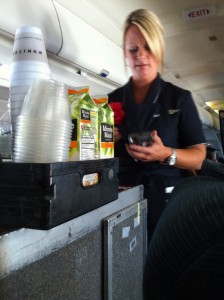 Where else have I seen that?  Oh yeah, on an airline!  $6 for a giant box of Milk Duds or a half canister of Pringles!
Around 1850, theaters first began opening in their current Times Square location on Broadway.  As smaller shows began closing downtown, the area was saturated with new auditoriums to satisfy New Yorkers and tourist demand for the shows.  In order to be classified as a full Broadway theater, the venue must seat at least 500.  (the same classification for a production to win a Tony Award.)
THE 411
What: Broadway Theaters
Location: Times Square Area, New York City
Number of seats: 500+
JERSEY JOE RECOMMENDS
So, where is the best seat in the house for a Broadway show?  Take the advice of Ryan Dixon, who taught me years ago to always sit in the front row of the middle or upper mezzanine.  You will get to see the whole stage and you'll get a little more room!
Coincidentally, I now also find myself sitting there at Yankees games!
Image credits – Willem van Bergen, Peter Bellis, David Lytle