Jersey Joe and his friends gather at a local restaurant to sample a Moscow Mule.  How this adult beverage became popular on the East Coast, before traveling to the West Coast, and back!
THE 411
Name: Moscow Mule
What: alcoholic adult beverage
Ingredients: ginger beer, vodka, lime juice
Traditionally served in: copper cup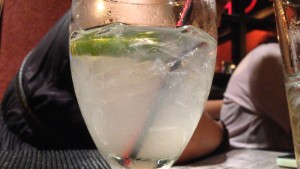 JERSEY JOE RECOMMENDS:
It's another one of those drinks that was popular in the past and is making a comeback.  Craft cocktails are now all the rage, so more drinks like this will be added to bar menus.  It's interesting how this became a fad in New York City, then went west, only to be mostly forgotten in the East.
I still think it would be better frozen, though…
And remember… drink responsibility!  Sorry kids, 21 and over – please!